Jump to navigation
Jump to search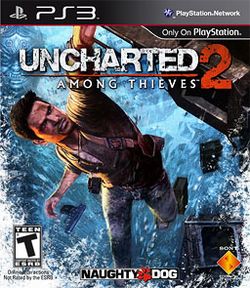 Uncharted 2: Among Thieves (アンチャーテッド 黄金刀と消えた船団 Uncharted: Ougontou to Kieta Sendan?, lit. Golden Sword and Vanished Fleet: Drake's Fortune) is a PlayStation 3 action-adventure video game developed by Naughty Dog and published by Sony Computer Entertainment. It is the sequel to the 2007 game, Uncharted: Drake's Fortune. Officially announced in the December 2008 issue of Game Informer, the game was released in North America on October 13, 2009. A European release date was initially announced as October 23, 2009, however this statement was later retracted by Naughty Dog co-president, Christophe Balestra on Twitter. Sony later announced a European release date of October 16, 2009.
Uncharted 2 picks up a couple of years after the events of Drake's Fortune. Similar to the previous story, Nathan Drake's (voiced by Nolan North) new adventure revolves around an unsolved historical mystery – this time surrounding Marco Polo and his doomed voyage home from China in 1292. After spending almost 20 years in the court of the emperor Kublai Khan, Marco Polo departed with 14 ships and over 600 passengers and crew – but when he arrived at his destination a year and a half later, only one ship remained, and only 18 of the passengers had survived. Although Marco Polo described almost every other aspect of his journeys in minute detail, he never revealed what happened to the ships that were lost. Nathan is introduced to the idea that Marco Polo's lost fleet can be recovered, and so he embarks on his newest treasure hunt.
Pre-order perks[edit]
Some special considerations were available from certain retailers when players pre-ordered the game. The following items or perks were given out in addition to the game itself:
Amazon.com: Treasure map showing the locations of treasure throughout the game.
BestBuy: Downloadable special golden guns for use in online multiplayer.
Game Crazy: Temporary boost to gaining money and bonuses during online multiplayer.
GameStop: Access to an exclusive multiplayer demo (September 9–19th, 2009) and a download of the Revenge Attribute multiplayer unlockable.
Table of Contents