Jump to navigation
Jump to search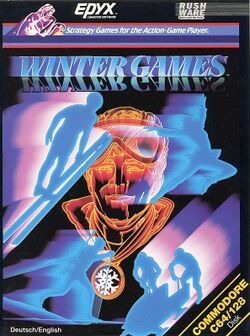 Winter Games
Developer(s)
Epyx
Publisher(s)
Epyx
Year released
1986
System(s)
Apple II, Apple IIGS, Atari 2600, Atari 7800, Atari ST, Commodore 64/128, Commodore Amiga, MSX, DOS, Amstrad CPC, Family Computer Disk System, NES, Sinclair ZX Spectrum, Wii
Preceded by
Summer Games
Winter Games is a sports game developed by Epyx (and released in Europe by U.S. Gold), based on sports featured in the Winter Olympic Games. A snow-and-ice themed follow-up to the highly successful Summer Games, Winter Games was released in 1986 for the Commodore 64 and later ported to several popular home computers and consoles of the 1980s.
The game was presented as a virtual multi-sport carnival called the "Epyx Winter Games" (there was no official IOC licensing in place) with up to 8 players each choosing a country to represent, and then taking turns competing in various events to try for a medal.
Winter Games was ported to the Commodore Amiga, Apple II, Atari ST, Apple IIGS, Amstrad CPC, Sinclair ZX Spectrum, MSX, and MS-DOS computer platforms, and to the Atari 2600, Atari 7800 video game consoles. In 1987, Pony Canyon published a conversion of the game for the Family Computer Disk System, which features the only departure from the Epyx box atrwork design (see below). This version was converted to cartridge form and released in North America on the NES by Acclaim. In 2004, it was featured as one of the games on the C64 Direct-to-TV. In 2009, Nintendo released the game for play on the Wii Virtual Console in Europe. It is worth noting that the version released was the Commodore 64 version, and not the Famicom Disk System or NES version, which is considered inferior.
The events available vary slightly depending on the platform, but include some or all of the following:
Alpine skiing
Ski jumping
Biathlon
Bobsled
Figure skating
Speed skating
Luge
Freestyle skiing; more precisely, the aerial skiing discipline, called "Hot Dog" in the game.
The game allowed you to compete in all of the events sequentially, choose a few events, choose just one event, or practice an event.
Table of Contents