Jump to navigation
Jump to search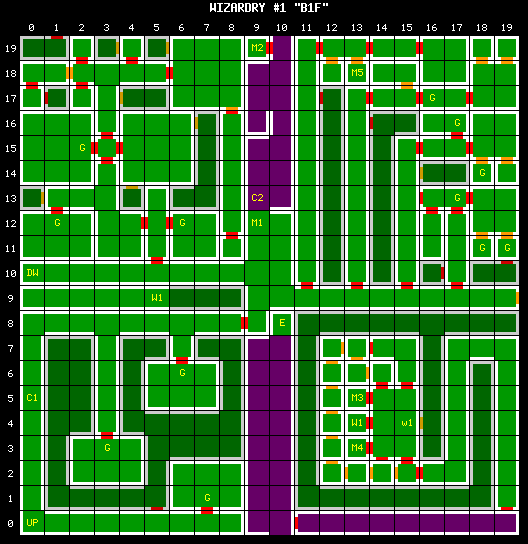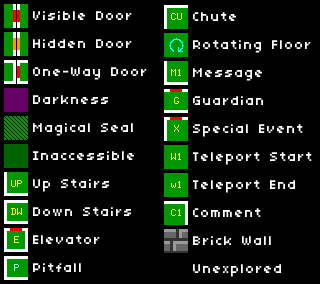 The first floor is effectively divided into four zones. Your party will start in the lower left corner of the southwest zone (coordinate 0,0). You should remain in this area until most of your party has reached level 3 or 4. It is rare to encounter more than two groups of monsters at one time here. Focus on doing combat with the guardian encounters at the entrances to the three rooms in this zone.
Once you are strong enough, your objectives on this floor are to obtain the KEY of SILVER from the northeast zone, and the KEY of BRONZE from the southeast zone. Reaching the southeast zone is most easily done by taking advantage of a teleport square found elsewhere. While you're in the southeast zone, you can also do battle against the MURPHY'S GHOST encounter which will earn you a good number of experience points.
While you remain on this floor, the chances that an enemy may paralyze you or poison you are small but present, so be prepared to deal with that if necessary. Always know the quickest escape route back to the castle. The Mage spell of MAHALITO is very useful against large groups of enemies, but it will take some time before you're capable of casting it. Don't forget to use your Preist's ability to DISPELL undead creatures like the UNDEAD KOBOLDS.
Up Stairs (E0-N0)
[
edit
]
The only access to the castle is at your starting point in the maze. After you enter the maze, and leave your camp, you will always be asked if you wish to climb the steps. Naturally, to explore any part of the maze, you must decline the first time. This is also an excellent location to deposit party members, and pick them back up with a different party so that you can mix Good and Evil members in the same party.
Note that if you have the spell MALOR, and you try to teleport directly to the tenth floor, you will be reflected back, unable to reach it. Instead, if you cast MALOR here, and asked to go 8 East, 2 North, and 8 Down, you will arrive right on top of the Chute in Floor 9 which leads to Floor 10 below.
Down Stairs (E0-N10)
[
edit
]
If you reach this location, you will be given the option to descend the stairs Floor 2. However, be aware that you will not arrive in the same coordinate when you descend. Rather, you will arrive in a different location, so it's a good idea to cast DUMAPIC when you arrive so that you have some idea of where you are in relation to the rest of the floor.
Comment 1 (E0-N5)
[
edit
]
It's worth noting that you if happen to teleport yourself into an inaccessible portion of Floor 9, you will be automatically teleported to this location.
Teleportation: (E5-N9, E13-N4) ⇒ w1 (E15-N4)
[
edit
]
Two squares will send you to a location in the southeast zone of the floor. One of those squares is through the door immediately to the west of the arrival location. The other location lies outside of this hard to reach zone. If you travel along the east portion of the central corridor that divides the north part of the maze from the south, you will reach a door. If you pass through that door, you will continue on the west side of the maze. The teleport square lies down that corridor. Note that in most early versions, there is no indication that you have teleported; you will simply arrive on the destination square as if you had walked there yourself.
Message 1 (E9-N12)
[
edit
]
A LARGE SIGN ON THE WALL READS:
** AREA OUT OF BOUNDS! **

This is likely the first message that you will encounter. While not strictly out of bounds, it is a warning that the area ahead is more dangerous than usual. This section is cloaked in enternal darkness. Not even magical light can penetrate the inky blackness ahead, so you'll have to tread carefully and feel your way around.
Comment 2 (E9-N13)
[
edit
]
Only in the NES (or Famicom) version of the game is a KEY of GOLD required to pass through here. You can collect it on the second floor. Other versions of the game have no such restriction.
Message 2 (E9-N19)
[
edit
]
"MAPIRO MAHAMA DIROMAT!!"
A STRANGE GLOW SEEMS TO EMANATE FROM THIS ROOM.
IN THE CENTER, A SMALLISH MAN IN A LONG ROBE TURNS TOWARDS THE PARTY AND SHOUTS
"BEGONE, STRANGERS!" HE SLOWLY WAVES HIS HANDS, AND CHANTS
"MAPIRO MAHAMA DIROMAT!!"

This is a long, but ultimately, unimportant message. Stepping into this room causes your party to be instantly whisked back out to the castle. Outside of this room, it is quite dark, so you should know how to get in an out of the area if necessary.
Elevator (E10-N8)
[
edit
]
There are two elevators found throughout the maze, the first of which can be found here on this floor. It allows you to move between the first, second, third, and fourth floors. However, the area where the elevator arrives on the second and third floors are closed off, so ultimately, it is only useful to reach the fourth floor. Keep in mind that the elevator occupies the same coordinates in each level, unlike the stairs.
Message 3 (E13-N5)
[
edit
]
THERE IS A GEM ENCRUSTED STATUE OF A HOODED MAN HERE.
A GOLDEN LIGHT EMANATES FROM THE HOOD.
IN FRONT OF THE STATUE IS AN ALTAR, IN WHICH PUNGENT INCENSE IS BURNING.

In this room, you will always encounter a group of MURPHY'S GHOSTS, and you can repeat this encounter as many times as you like. However, you can never run away from this encounter, so you must be sure you can survive before engaging the ghosts. This is no place for a level 1 party to be, but it can be a great location for stronger parties to rapidly increase the levels of characters who have recently changed classes. The Mage spell of DILTO can aid you greatly by making the ghosts easier to hit.
Message 4 (E13-N3)
[
edit
]
IN THIS ROOM IS A STATUE OF A MONSTER WITH THE BODY OF A CHICKEN AND THE HEAD OF A CAT.
THE STATUE IS MADE OF BRONZE, AND LIES ON AN ONYX PEDESTAL.
THERE ARE UNUSUAL RUNES ON A PLAQUE THEREON.

After reading the message, you will be asked if you would like to look around. If you answer yes, you will discover the KEY of BRONZE. If someone in your party already possesses the key, the message is not displayed. This key is required to pass through a checkpoint in Floor 2.
Message 5 (E13-N18)
[
edit
]
IN THIS ROOM IS A SILVER STATUE OF A BOAR. WITH HORNS AND LONG FANGS.
ON THE WALL BY THE STATUE IS A MESSAGE (PARTIALLY OBSCURED)
THAT APPEARS TO HAVE BEEN LEFT BY PASSING ELVES.
IT IS HARDLY LEGIBLE, BUT SOME COMMENTS WARNING ABOUT GHOSTS AND DEMONS CAN STILL BE MADE OUT.

After reading the message, you will be asked if you would like to look around. If you answer yes, you will discover the KEY of SILVER. If someone in your party already possesses the key, the message is not displayed. This key is required to pass through a checkpoint in Floor 2.