Jump to navigation
Jump to search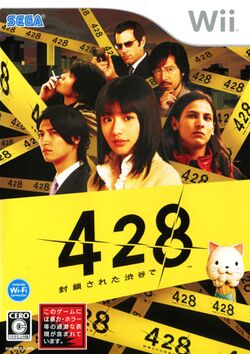 428: Shibuya Scramble (428 〜封鎖された渋谷で〜, 428: Fūsa Sareta Shibuya de?, literally 428: In a Blockaded Shibuya) is an adventure game created by Kōichi Nakamura, developed by his company Chunsoft and published by Sega. It was originally released in Japan for the Wii on December 4, 2008. The game was also ported by Spike to the PlayStation 3 and PlayStation Portable.
428: Shibuya Scramble is a visual novel set in the Shibuya ward of Tokyo where the narrative is presented using a combination of scrolling text, live action stills, and video sequences. The game shares many story and gameplay elements with Chunsoft's 1998 sound novel game Machi, the most prominent being the locale, Shibuya. Although Chunsoft does not openly state 428 is a sequel, the game contains numerous references to Machi, and an early marketing slogan reads "Breaking a long silence, Shibuya gets going again."
The game has received high praise from critics, earning a perfect score in Famitsu Weekly, Japan's largest circulating video game magazine. The game also features a special scenario contributed by Kinoko Nasu and Takashi Takeuchi of Type-Moon fame, who wrote and provided character designs for them respectively. It was subsequently announced by Sega that this particular scenario by Type-Moon would be adapted into a TV anime adaptation titled Canaan, which began airing in Japan on July 4, 2009. A series of four novels based on the game were published by Kodansha between the months of September and December 2009.
Table of Contents