Jump to navigation
Jump to search
This is the first game in the ActRaiser series. For other games in the series see the ActRaiser category.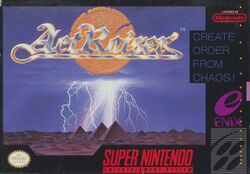 ActRaiser (アクトレイザー is just a reading help for Japanese players) is a 1990 SNES action and city-building simulation game developed by Quintet and published by Enix (now Square Enix) that combines traditional side-scrolling platforming with urban planning god game sections. In 2007, ActRaiser became available on the Wii's Virtual Console download service in Europe, North America and Japan. A version of the game was also released for European mobile phones in 2004.
A sequel, ActRaiser 2, was released for the SNES in 1993. The sequel, however, dropped the city-building aspect completely.
According to the instruction booklet, the world is maintained by a deity known as "The Master." Tanzra, referred to as "The Evil One", is the eternal enemy of The Master and wishes to conquer the world. His six Guardians attacked The Master in a battle that lasted several days. After the battle, The Master retreated to his Sky Palace, which floats in the sky atop a cloud, to tend to his grave injuries. He erected a barricade and fell into a long and deep sleep. With The Master incapacitated, Tanzra divided the world into six lands, each ruled by one of his guardians. The Master awoke several hundred years later with his injuries completely healed, but his power had been removed as the people turned towards evil. He removed his barrier from the Sky Palace, determined to free the world from The Evil One.
Table of Contents