Jump to navigation
Jump to search
This is the first game in the Aleste series. For other games in the series see the Aleste category.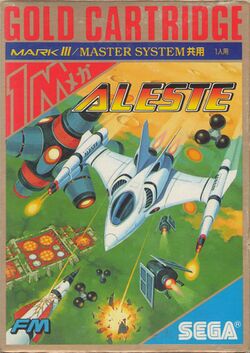 Aleste (アレスタ, Aresuta?) is a 1988 vertical shooter video game developed by Compile, originally published by Sega for the Master System and then by CP Communications for the MSX2. The Master System version was released outside Japan as Power Strike. The game spawned the Aleste and Power Strike franchises.
The story of Aleste concerns the manmade supercomputer DIA 51, which has been infected by a hybrid virus that is spreading like wildfire, eventually leading DIA 51 to eliminate the human race. When Yuri, Ray's girlfriend, gets injured in DIA's assault, Raymond Waizen has all the reason in the world to get rid of DIA 51 once and for all in his Aleste fighter.
Table of Contents