Jump to navigation
Jump to search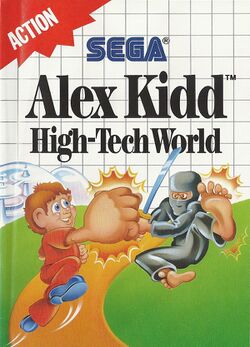 Alex Kidd: High Tech World is a side-scrolling action-adventure video game combining adventure, platforming and puzzle-solving elements, released by Sega in 1989 for the Master System, as part of the Alex Kidd series. It is a modified version of the 1987 Japanese Master System game Anmitsu Hime (あんみつ姫, Princess Anmitsu?), which was based on a manga series of the same name.
Alterations made to the English version included altered sprites, English text and a different storyline. Because the game was not conceived as an Alex Kidd game in Japan, these alterations caused inconsistencies for the Alex Kidd storyline in the West, such as an appearance of Alex's father in the very beginning of the game, even though his father was missing in Alex Kidd in Miracle World, until being found at the end of Alex Kidd in the Enchanted Castle. Furthermore, while a large variety of characters exist in the game, none of the previously-established characters in the Alex Kidd-universe are anywhere to be found, nor do any of the characters in this game appear in any of the others in the series.
Alex also has a brother by the name of James in High-Tech World who is never mentioned in any other games in the series.
Alex Kidd is contacted by one of his friends, who tells him a new arcade, High Tech World, has opened in town. Alex has a map to its location, but it has been torn into eight pieces and is needed to find the arcade before it closes at 5:00 sharp. He solves puzzles, answers questions, runs errands and does housework to find the pieces. However, once he finds the pieces of the map, he learns that the front gates are shut, and thus is unable to leave. Using a hang-glider to leave the house he lands in the forest. On his way to the arcade, a clan of ninjas appear, who attempt to attack him. Upon fighting through the forest of ninjas, Alex finally makes it to the Arcade.
Table of Contents