Jump to navigation
Jump to search
The game has 7 options to choose from, the first one is Start Game, this shows you the missions you've unlocked and lets you choose which levels you want to play from, if no progress has been done yet, only Level 1 will be unlocked, the second one is Load, this loads your current save state, to produce a save state once a level is finished you have to click "Save", which can be loaded later with "Load" in the Main menu, the third one is Options which allows to adjust the volume of Sound and Music as well as remap the controls, the fourth option is Hall of Fame which opens the local leaderboards, this will be empty if nothing has been submitted yet, the fifth one is Help which opens up the Help section of the game teaching the player what to do, what are the power-ups and enemies it will encounter, this also includes the pictures of every single power-up and enemy that will exist in the game so the player will immediately know which is which, the About section shows the game version and the people who are involved with the game, and Exit closes the game.
Interface
[
edit
]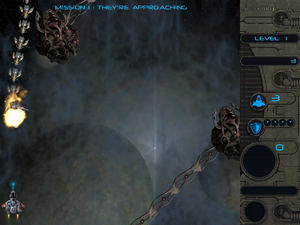 The interface of the game is on the right section of the screen, it contains the level number, your score, your number of lives, the HP you have or Armor Plates, the icon and the name of the special weapon you have, and the icon for Time Stop that will appear if you catch the power-up, it will flash when the Time Stop is about to run out.
Controls
[
edit
]
The ship could be controlled with either hovering a mouse or keyboard for movement, Left and Right button is used to make the ship move around, and Space or Left mouse button is used to fire, Up button or Right mouse button is used to fire the extra weapon, Bot Launcher will deploy bots around you on the first right click, then the bots will be launched in the second right click.