Jump to navigation
Jump to search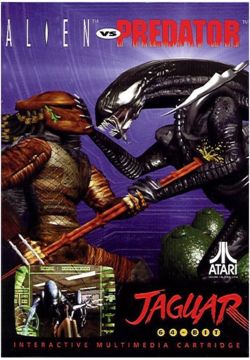 Alien vs Predator is a first-person shooter developed by Rebellion Developments and published by Atari Corporation for the Atari Jaguar in 1994. Based on the Alien vs. Predator franchise, the game allowed the player to choose one of three characters: the Alien, the Predator, or Colonial Marine Pvt. Lance Lewis.
A version with similar 3D gameplay was also planned for the Atari Lynx but it was cancelled when Atari dropped support of the Lynx.
The game's engine is much like Wolfenstein 3D: a flat plane, no stairs or open elevators, two-dimensional sprites, and all walls turn at 90° (but sometimes with transparency). Each character is well balanced and provides a different gameplay style (the levels are the same, but the strategies are different). Playing as the Marine, you have computer terminals to learn the ill fates of the other marines (similar to the PDAs in System Shock). Alien vs Predator is a precursor to the popular PC game series released in 1999, which used 3D polygon graphics.
Table of Contents