From StrategyWiki, the video game walkthrough and strategy guide wiki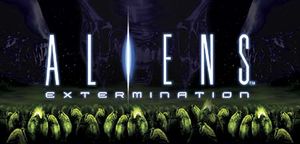 Aliens: Extermination is a 3D shooter arcade game released in 2006, based on the movie Aliens.
On January 10, 2007, the software update 1.0.3 was released. The software update allows operators to set different prices for games depending on whether the player is starting or continuing a game.
Table of Contents