From StrategyWiki, the video game walkthrough and strategy guide wiki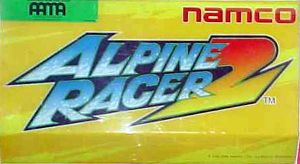 Alpine Racer 2 is a skiing arcade game that was released by Namco in 1996; it runs on their System 22 hardware, and as the name suggests, it is their sequel to Alpine Racer, released two years earlier. The player must again use two rectangular yellow buttons for selecting options (and a third round red one to confirm them) as well as a pair of ski-like foot stands to control one of three new skiers (called "Basic", "Mogul", and "Downhill") on one of two new courses ("Hi-Speed" or "Technical") - and it also features Dr. Don from Point Blank and Kuma from Tekken as hidden skiers who can be activated by holding down both Selection Buttons on coin insertion, then pushing either Selection Button by itself (left for Dr. Don and right for Kuma) on the skiers' selection screen, followed by the Decision Button.
This game also allows two players to play simultaneously when two single-player cabinets are linked together; in the "Race Mode", the extra time gained from passing under a checkpoint applies to both players, but in the "Time-Trial Mode" (which is only available for linked play if both players select it!), the extra seconds gained from passing through pairs of gates shall only apply to the players passing through them, and a three-second penalty will get added to both players' total times for every pair of gates they have missed on finishing. If the distance between the players gets too close in this mode, the other player's skier will disappear from both monitors but return when there is a greater distance again; this game was also on the BBC quiz show, Friends Like These, which ran from 1999 to 2003.
Table of Contents