Jump to navigation
Jump to search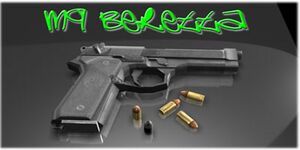 The M9 is a light weight, semiautomatic pistol manufactured by Beretta and designed to replace the M1911A1 .45 caliber pistol and .38 caliber revolvers. The M9 has redundant automatic safety features to help prevent unintentional discharges. It can be fired in either double or single action mode and can be unloaded without activating the trigger while the safety is in the "on" position.
The M9 pistol has a 15-round magazine, and may be fired without a magazine inserted. This weapon can have the hammer lowered from the cocked, "ready to fire," position to the uncocked position without activating the trigger by placing the thumb safety on the "on" position.
The 9mm Pistol Program was a Congressionally-directed Non-Developmental Initiative to standardize DoD with NATO and field one handgun for all United States armed services. Beretta of Italy was awarded a multi-year contract for delivery of over 500,000 pistols. The contract award stipulated that production of the weapon must transition from Italian to US production after two years. The US Army is the lead service in this program. The Army began using the M-9 in 1990.
M9 pistols feature an alloy frame, a no glare finish, an ambidextrous safety lever, a reversible magazine release, an open top slide, a chamber loaded indicator, and a unique triple safety.
Operation
[
edit
]
The M9 pistol has a short recoil system using a falling locking block. The pressure developed by the expanding gases of a fired round recoils the slide and barrel assembly. After a short run, the locking block is disengaged from the slide, the barrel stops against the frame, and the slide continues its rearward movement. The slide then extracts and ejects the fired cartridge case, cocks the hammer, and compresses the recoil spring. The slide moves forward feeding the cartridge from the magazine into the chamber. The slide and barrel assembly remain open after the last cartridge has been fired and ejected.
Specifications
[
edit
]
Caliber: 9-mm NATO
System of Operation: Short recoil, semiautomatic
Locking System: Oscillating block
Length: 217 mm (8.54 inches)
Width: 38 mm (1.5 inches)
Height: 140 mm (5.5 inches)
Weight with Empty Magazine: 960 grams (2.1 pounds)
Weight with 15-Round Magazine: 1,145 grams (2.52 pounds)
Barrel Length: 125 mm (4.92 inches)
Rifling: R.H. , six-groove (pitch 250 mm [about 10 inches])
Muzzle Velocity: 375 meters per second (1,230 feet per second)
Muzzle Energy: 580 joules (430 foot-pounds force)
Maximum Range: 1,800 meters (1,960 yards)
Maximum Effective Range: 50 meters (55 yards)
Front Sight: Blade, integral with slide
Rear Sight: Notched bar, dovetailed to slide
Sighting Radius: 158 mm (6.22 inches)
Safety Features: Decocking/safety lever, firing pin block.
Hammer (half-cocked notch): Prevents accidental discharge.
Basic Load: 45 rounds
Trigger Pull: Single-Action: 5.50 pounds-force (24.5 newtons). Double-Action: 12.33 pounds-force (54.8 newtons)
Using the Berreta
[
edit
]
The pistol has iron sights, which can be used when firing. Keep in mind that this is a last resort weapon, and has a very slow fire rate. The pistol can jam. The pistol in-game is very accurate (I mean accurate!) and powerful. Two shots in the chest and opfor is dead! When using it in close quarters combat against an enemy strafe tightly left and right aim for the chest area. Do not waste ammunition as it only has 16 shots maximum - half that of a normal rifle. M9s in-game are mostly used when snipers are forced in engage in CQB. It is compulsory for all snipers to carry an M9.