Jump to navigation
Jump to search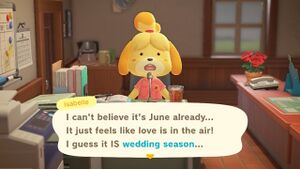 Wedding Season is an event held for the duration of the month June. You will receive a call from Harvey on the first day of June you log in the game. To participate in the event, you have to go visit Harv's island. You can do so when you visit the airport, choose the option "I wanna fly" and "Harv's island."
Harvey will show up on your island with an invitation to his island after the Resident Representative (player 1) has finished building the three resident houses.
When you travel to Harv's island, you will see familiar faces of alpacas Cyrus and Reese. They need help with wedding anniversary photos. Every day in June, Reese will ask you to create a set of specific theme and take their photo.
Talk to Harvey to participate in the event after the first time.
Decorating the sets
[
edit
]
Harvey will give you quick introductions if you have never used Photopia's sets before. You can use all the items you have in your catalog to decorate the sets with. To choose the furniture to decorate with, press the

button. During this event, a new "Event" tab is accessible. In this tab, you will find wedding-themed items made by Cyrus. Reese will request that you use these items. By pressing the

, you can customize applicable furniture. Whenever you are ready to take a photo, talk to Reese and then press

button. If you don't want to show your character in the photo, you can make it invisible by pressing the

button.
To achieve Reese's vision, you have to:
Use enough furniture
Match up the colors of the furniture
Use colors that fit the requested theme
Photo requests
[
edit
]
The photos will be either of ceremony, or reception. Reese will request three different themes:
Cute photo - lots of pink and white.
Chic photo - brown and beige accents.
Garden photo - yellows and greens.
The themes are easily achieved by using the wedding items variant of the same name.
Examples of sucessful photos
Rewards
[
edit
]
Reese will grade your photo after showing. You will receive multiple Heart Crystals based on how well you did.
It's good, but it's not quite what I was expecting. - You will receive 5 Crystal Hearts.
What a lovely photo! - You will receive 6 Crystal Hearts.
It's everything I could have wanted! - You will receive 11 Crystal Hearts.
Reese will mention what you did wrong and how to make a better decoration next time. She will reward you with an event item after the photoshoot.
Crystal Hearts are a kind of a special currency. You can trade them with Cyrus for the event furniture. More furniture is added the more photoshoots you have completed, capping at 7. After completing at least six wedding-party photoshoots, Harvey will give you DIY recipe for "Wedding Fence", and after the seventh, Resee will reward you with a "Cyrus & Reese Plate" and talking to Cyrus will prompt him to give you DIY recipe for "Wedding Wand".