Jump to navigation
Jump to search
Your town will have many trees growing when you first arrive. These will be a mix of Oak trees, Pine trees and Fruit trees (that contain your native fruit). You can plant more trees buy purchasing saplings from the Garden Center or by planting fruit.
Pine Trees
[
edit
]
Pine Trees are essential in Animal Crossing. Although, they may look simple during spring, summer, and fall, Pine trees are decorated with Christmas lights during winter season. It's key to have them planted around your town, and they can be purchased at the Nook's shop.
Oak Trees
[
edit
]
Fruit Trees
[
edit
]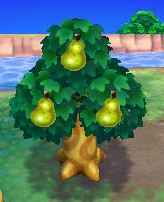 There are five native fruit types and seven tropical types.
The native fruits are Apples, Cherries, Oranges, Peaches, and Pears. When you first move to the town your fruit trees will grow one of these 5 types of fruit which can be sold for 100 Bells per piece. The tropical fruits are Bananas, Coconuts, Durians, Lemons, Lychees, Mangoes, and Persimmons. These fruit (apart from Persimmons) can be obtained by visiting the Island and collecting them while going on Tours. The Persimmon is unlocked when you the Nooklings upgrade to the T&T Emporium. Tropical fruit sells for 250 bells per piece.
There is a chance that a native fruit tree will produce Perfect fruit. These appear as larger, juicier looking fruit and sells for 600 bells per piece (although if you go to another town to sell it, you can expect to get 3,000 bells per piece.)
Palm Trees
[
edit
]
Palm trees can be found on Tortimer island. They grow in sand and produce coconuts. To plant them just bury a coconut in sand.
Money Trees
[
edit
]
Money trees grow when you bury money (at least 1000 bells) with a golden shovel. There is a chance that when you do this, a tree will start growing and when it's done growing, it will have bell bags on it. The more bells you planted at the start, the higher the chance it will be if it's a money tree. If it doesn't become a money tree, it will be an oak tree.
Flowers
[
edit
]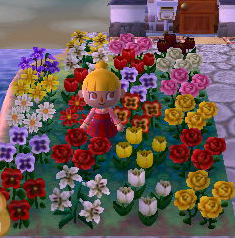 Three to five flowers will appear in your town each day. Sometimes these are "wild" flowers that just grow and sometimes a villager will have planted them during the day. You can also purchase flowers seed bags from the Gardening Center on Main Street. Flowers should be watered, especially if they appear wilted. Doing so will revive them and the next day they will return to their normal colour. It's important to care for the flowers in your town if you hope to maintain the Perfect Town status.
Running over flowers can destroy them (12.5% chance of this happening) so it is wise to walk slowly through them. It makes sense to move flowers out of main thoroughfares in your town - for example, if they appear in front of bridges or paths to the beach.
Roses are considered a common flower type and are available in a range of colours.
Cosmos are considered a common flower type and are available in a range of colours.
Tulips are considered a common flower type and are available in a range of colours.
Pansies are considered a common flower type and are available in a range of colours.
Lilies are a new type of flower in the available in the Animal Crossing series and are limited in colour options.
Violets are a new type of flower in the available in the Animal Crossing series and are limited in colour options.
Carnations are given as gifts during different Holidays, like to celebrate Mother's Day and Father's Day.
Flower Breeding
[
edit
]
Creating Hybrid flowers by flower breeding is an interesting way to discover new colours of flowers. This is done by pairing flowers of the same species together and can happen whether you intended it to or not. Wild flowers that grow in your town can be "child" flowers from this breeding processed. You can only breed flowers of the same spices, this means you cannot cross a tulip with a rose or a pansy with a cosmos. Some mixtures of colours do not produce child flowers at all. There is always the possibility that the child flower will be the same colour as one (or both) of the parents, this is reflected in the table below. Cross breeding can take time to produce new interesting coloured flowers.
Please note: This table is a work in progress and is not yet final, there may be mistakes contained within.
Colour 1
Colour 2
Outcomes
Roses
/
/ /
/ /
/
/
/ /
(withered)
Gold Watering Can
/
Cosmos
/
/ /
/ /
/
Pansies
/
/
/ /
/
/
Tulips
/
/ /
/ /
/
/ /
/ /
Lilies
/ /
/ /
/ / /
Violets
/ / /
/ /
/
Carnations
(Father's Day gift)
/ /
(Mother's Day gift)
/
/
To ensure that flowers will cross breed you must arrange them so that they are 'touching'. For the flowers to be touching each other this means they have to be positioned alongside each other, up and down or diagonally. The empty spaces around the two flowers are the spots where child flowers will potentially grow. Planting diagonally appears to produce more opportunity for hybrids to grow. It is important to have free spaces around the flowers or hybrids will not be produced.
Jacob's Ladder
[
edit
]

Jacob's Ladders are special flowers that only grow when your town's citizen satisfaction is at its highest. They are white, bell-shaped flowers that grow on cliffs.
These flowers can't be cross-bred and doesn't sell as much as hybrid flowers. Although, planting Jacob's Ladders next to other types of flowers can increase the chance of a successful cross-breed between the those flowers (still have to be the same species). The Jacob's Ladder is more of a trophy to prove that your town is really the best town there can be. It can be considered to be the opposite of the Rafflesia.
Fertilizer
[
edit
]
Fertilizer is a gardening item that can be bought from the Garden Center for 1,600 Bells once you have the T&T Emporium in your town. To use it, dig a hole near a certain flower or tree and bury the Fertilizer in it. For trees, the Fertilizer increases the chance of the tree to produce Perfect Fruit. For flowers, the Fertilizer increases the chance of producing hybrid flowers.
Bushes have been changed (from Animal Crossing) to appear more realistic. The player is able to buy different types of bush and can plant them around town in similar manner to Trees. Bushes cannot be walked through, unlike flowers, so they can be effective at creating boundaries or "fencing" off an area.
Planting restrictions
[
edit
]
Bushes cannot be planted next to any cliffs, bodies of water, stones, buildings, plazas, or bridges. If a bush is planted within a 7x7 plot of land that already has 15 total bushes and trees, a bush cannot grow.
Blooming information
[
edit
]
Unlike normal flowers, bushes only bloom at certain times of the year. For the rest of the year, they are mostly dull green bushes. As blooming season nears, you will see buds appear on the bush, before fully blooming into flowers. Each bush has a set blooming period.
Holly Bushes: December 1 - March 31
Azalea Bushes: April 11 - June 15
Hydrangea Bushes: June 16 - July 5
Hibiscus Bushes: July 6 - September 15
Sweet-Olive Bushes: September 16 - November 31
Bamboo Shoots are a special type of plant that can only be purchased at the Garden Corner once you upgrade the main store to the T&T Emporium, though you can also obtain it as gifts from other villagers. Shoots are planted in the same way as saplings and bush starts. Simply dig a hole with your shovel and plant it, and it will hopefully grow. Bamboo takes 3 days to fully grow.
A special feature of bamboo is that it can grow more of itself automatically. Every three days, a bamboo shoot will appear buried underground nearby a fully-grown bamboo tree. If left alone, the bamboo shoot will grow into a tree by itself. You can also dig up the shoot and plant it elsewhere or simply sell it or give it to others as fruit.
Weeds amoung the Animal Crossing series are small clumps of grass that according to season change color; but, are not limited to them as they also include clovers, dandelions / dandelion puffs, and Rafflesia. In addition they are also contaminants and lower the chances of flowers breeding.
Approximately three weeds (small grass most commonly) spawn everyday at 6 am.
Small Grass; small clumps of grass (visually seen as two grass blades) that change color according to the season.
Clovers also known as "Lucky Clovers" *; appearing as a group of four clovers.
* There is a 1 in 40 chance that in place of a regular clover you'll find a "Lucky Clover" which can be worn in the players hair; when placed in you home appears as an open book with a clover bookmarking it.
Dandelions / Dandelion Puffs (Spawns daily: March - almost December); These flowers can occasionally take place of a weed spawn at the start of the day but are not a guaranteed spawn. Within a few days of spawning they turn in Dandelion Puffs, once picked up they can be accessed as a "tool" and by using the A button be blowned, they are then remived from the players pocket but do not spawn wherever they were blown.
* Dandelion / Dandelion Puffs and Clovers do not affect a players town environment rating therefore being left alone will not cause any detriment.
Rafflesia (see Rafflesia section below Effects of Weeds)
Effect of weeds
[
edit
]
Rafflesia
[
edit
]
New Leaf has a different spawning condition regarding Rafflesias. This being said Rafflesia can only spawn in an underdeveloped town and isn't a statement on the cleanliness of a town. The underdeveloped town being one that has less than three Public Works Projects (permanent ones are also included) but also one that has a low number of trees. At any time only one Rafflesia can spawn; opposite to popular belief of it being time traveling, town rating, trash, weeds, town ordinance, and lack of flowers that causes them they do not relate to the spawning process.
However when the conditions are met of having more Public Works Projects and planting more trees the flower should appear to be wilted in the next day, and by the day after that be completely gone.