Jump to navigation
Jump to search
Gracie is a fashion designer in the Animal Crossing series. She will appear in your town on a random weekday and assess your fashion sense. The player must passes four Fashion Checks in order for Gracie to open a shop within the T&T Emporium.
Fashion Checks
[
edit
]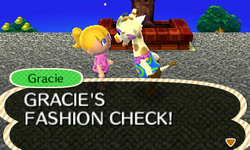 When you talk with Gracie still will give you a theme for the day. In order to pass her fashion check you must put together an outfit that fills the theme she requests. You will get 3 chances to pass each time and your outfit must include a hat and accessory. Some themes clash which means that if you are wearing a piece of clashing themed clothing you will automatically fail the fashion check. If you are wearing socks they will be counted in the check, even if they are covered up.
There are 10 different themes which cover every items of clothing in the game.
Basic
Cute
Flashy
Historical
Iconic
Modern
Official
Ornate
Rock 'n' Roll
Sporty
Clashing themes
[
edit
]
| | Basic | Cute | Flashy | Historical | Iconic | Modern | Official | Ornate | Rock 'n' Roll | Sporty |
| --- | --- | --- | --- | --- | --- | --- | --- | --- | --- | --- |
| Basic | N/A | | FAIL | | | | | | FAIL | |
| Cute | | N/A | | | | | | | | |
| Flashy | FAIL | | N/A | | | | FAIL | | | |
| Historical | | | | N/A | | | | | | |
| Iconic | | | | | N/A | | | | | |
| Modern | | | | | | N/A | | | | |
| Official | | | FAIL | | | | N/A | | FAIL | FAIL |
| Ornate | | | | | | | | N/A | | |
| Rock 'n' Roll | FAIL | | | | | | FAIL | | N/A | |
| Sporty | | | | | | | FAIL | | | N/A |