Jump to navigation
Jump to search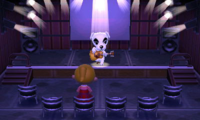 K.K. Slider is dog and a travelling musician. From 8 p.m. to midnight, K.K. Slider will appear at Club LOL as DJ K.K., who will play remixed versions of his songs. On Saturdays, K.K. Slider will return with his original acoustic guitar, performing songs that players can request and giving out bootlegs of these songs.
Once the T.I.Y store opens, players can purchase K.K. Slider albums. These songs can be added to your stereo, you can also display the albums cover art in your house.
There are 91 different songs to collect in Animal Crossing: New Leaf. Talking to K.K. Slider on Saturday evenings will allow you to choose a mood or request a particular song. When you tell K.K. Slider your mood, he will play one of the songs from that category and give you a copy to play in your stereo.
Some songs are only available by special request when talking to K.K. Slider on Saturday nights - you cannot purchase these at the Nooklings Store.