Jump to navigation
Jump to search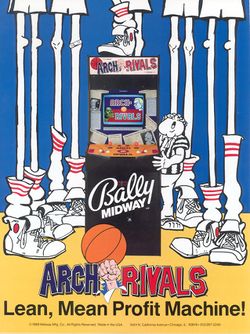 Arch Rivals is a basketball arcade game that was released by Bally Midway in 1989; it runs upon the company's MCR-68 hardware, but with an added Yamaha YM-2151 and HC-55516. Billed by Midway as "A Basket Brawl", the game comprises two-on-two full court basketball games in which players are encouraged to punch opposing players and steal the ball from them just like in real basketball games.
Arch Rivals allowed players to select from a variety of fictional teams (although arcade operators can change the team names to reflect real ones) and players; one playable character, "Tyrone", was also featured in the animated Power Team segments of the television series Video Power. Home versions of the game were released for the NES, the Sega Genesis or Mega Drive, and the Sega Game Gear - and emulated versions of this game were included in the compilations Midway Arcade Treasures 2, Midway Arcade Treasures Deluxe Edition, and Midway Arcade Origins (it's also emulated in MAME).
The game has been considered a forerunner to Midway's popular arcade basketball game, NBA Jam.
For more details on this topic, see Arch Rivals/Versions.
Each of the three home ports of this game do not have the same graphics as the arcade, due to being released on 8- and 16-bit systems; the graphics are notably lesser in quality, and the NES version of the game contains a glitch where a three-point dunk can be achieved. The Sega Genesis conversion received poorer reception on account of a glitch where almost 95% of shots taken from anywhere on the court would result in a basket (although its sounds were closest to those for that arcade version).
The game was also released as part of Midway Arcade Treasures 2 for the PlayStation 2, Xbox, and GameCube, Midway Arcade Treasures Deluxe Edition for Windows, and Midway Arcade Origins for PlayStation 3 and Xbox 360; there was even an LCD handheld game by Acclaim that is based on it.
Table of Contents