From StrategyWiki, the video game walkthrough and strategy guide wiki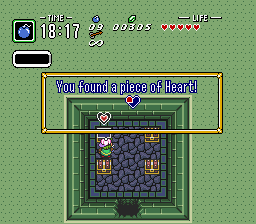 Now you've got the Bombs you can explore! Go back to Sahasrahla's hut and bomb the back wall for 60 rupees and a

Piece of Heart. Go back outside. South of Sahasralah's home is a different-looking wall (at the end of a corridor of sorts); hop down there and bomb it open. A thief will give you 300 rupees and an additional 80 can be found in the chests. Now head towards the bottom-right corner.
Over to the right is a

Piece of Heart surrounded by holes. How do you get it? Just stand above it and face the wall and then use the Pegasus Boots to ram the wall, propelling yourself backwards and onto the island. Now fall down any of the holes. Go out and up the stairs.
From here go east and down one screen. Both the caves here hold 80 rupees; the left-hand one needs to be bombed open, the right-hand one also has fairies and a magical bee if you ram the right statue (and again requires a bomb placed on the northern cave wall to reach the rupees). Go out, up, left, and down to leave the enclosed area you started in. Enter the left-hand cave mouth (the right one needs to be bombed open, which you can do later). Bomb the right-hand cave wall to get 100 rupees (note the Great Fairy), then go out and bomb open the other door for 20 more.
Go a screen to the left and ram the rock-pile for a

Piece of Heart. Go up a screen and bomb the wall for another

Piece of Heart.
Keep going north then east to the Witch's Hut. You should consider purchasing the Gold Potion if it's available (or another health-restoring one, either red or blue). While this means saying goodbye to your precious Bee the potion is likely more useful, and you lose your Bee at the end of the week anyway.
Ram the rock-pile to the right and the path will lead you to a house. Bomb the wall behind it for a

Piece of Heart. You can activate the switch with a bomb or return later with a boomerang. You may also consider entering the house to rent a shovel and go treasure hunt, but it'd be advisable to do that after dealing with the dungeon and other things (so you can make the best out of your rental).
Bomb the wall to the left for a

Piece of Heart, then go right and up a screen. Ram the rock-pile for fairies and a thief who gives you 300 rupees! Leave through the door. Go up and to the right into Zora's Domain.
This place is much smaller than it was in A Link to the Past. Head to the north-east corner and talk to King Zora. Agree to buy his

Flippers (you should definitely have enough Rupees by now). With these you can now swim. Go down a screen. Swim over to the left into the waterfall to enter Dungeon 2.