From StrategyWiki, the video game walkthrough and strategy guide wiki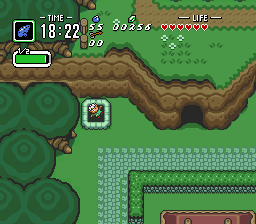 When you begin you get the

Big Bag of goodies back (but not the Golden Bee, it is deliberately removed). Go out the door and into the grass-roofed hut to the left.
There are 4 chests downstairs, each with a red rupee inside. The bombable wall leads to 6 pots with arrows, bombs, and hearts inside.
After



the Bottle Man appears in the town square on the carpet you can see south of the house you just visited. His

Bottle will be invaluable, so save up 100 Rupees and go to see him when that time comes.
Now go west and onto the upper ledge, then drop down into the well to find a

Piece of Heart. Walk over to the right and exit—do NOT use the stairs, as this will put you on the wrong plane.
Bomb open the doorless hut in the bottom left corner to get a

Piece of Heart and a red rupee. As in A Link to the Past the pots contain bomb/arrow refills.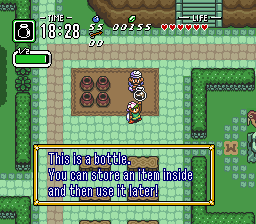 Inside the shed near the cuccos is a man selling bombs, arrows, and a Red Potion, so buy something if you wish, or if you don't still have a Gold Potion from Week 1.
Go into the house with the old lady sweeping out front. Blow down the wall to get a chest containing a sweet 100 rupees!
Right about now the rain comes down to hamper your progress. It will extinguish any and all bombs, so don't even bother trying to blow open anything outside.
Worse than that, all overworld enemies are replaced with Zoras. To make it even worse, the Boomerang only hurts them instead of stunning them, and they have a lot more health than their A Link to the Past counterparts. So beware!
Go through the back door of the pub to get a

Piece of Heart. Once you're done here, take the upper-right path out of the village. Ram the rock pile to the bottom left and go down the stairs for 4 fairies and 100 rupees. Go back out and ram the rock pile to the top right and enter the dungeon.