From StrategyWiki, the video game walkthrough and strategy guide wiki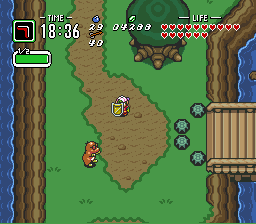 Take Zelda right, up, left, and drop her in front of the slab. Now go back right and down the steps for fairies and a

Piece of Heart.
Now you will have to wait until Zelda calls you telepathically at



, so fly back to the overworld and finish up anything you didn't do before. Now would be a good time to go digging for that last Piece of Heart.
When the clock hits



go meet to the left shore of the archers' bridge to meet the Mole. He tunnels out in the bottom-right of the Death Mountain summit.
When Zelda calls you, fly up to the mountain (that triangle thing is a selectable destination). She gives you the

Silver Arrows; thus armed with the Master Sword and the Silver Arrows, go bravely through the teleporter.
Once you arrive, go to the east of the fortress for one last

Piece of Heart. If you wish, ram the rock-pile to the left of Ganon's fortress to find a Great Fairy.
Now attack the magic bat thing and go into the fortress.