Jump to navigation
Jump to search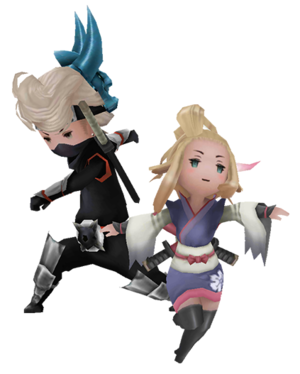 A fast dual-wielding fighter!
High power when dual wielding
Favors daggers
Specialty

Dual Wield

Job Command

Ninjitsu
Stat Affinities
HP
C
MP
C
STR
B
INT
C
DEX
A
VIT
D
MND
C
AGI
S

Arms Aptitude
Swords
C
Rods
E
Bows
D
Axes
E
Staves
D
Katana
B
Spears
D
Daggers
S
Knuckles
D

Armor Aptitude
Shields
E
Helms
E
Armor
E
Abilities
[
edit
]
Level
Name
Cost
Type
Description
1
Shippûjinrai
16 MP
Command
Attack at the start of the turn and deal the same damage as a conventional attack.
2
Transience
1
Support
Evade an attack and counterattack, dealing the same damage as a conventional attack.
3
Evade 10% Up
1
Support
Raise evasion by 10%.
4
Utsusemi
Command
Evade a physical attack one time.
5
Comeback Kid
1
Support
Magic Attack and Physical Attack each rise 25% for three turns with each physical attack evaded.
* The upper limit for P.Atk and M.Atk is 150%.
6
Ikkikasei
1 BP
Command
Raise the number of attacks by 100% for that turn only.
*The upper limit for Hit Count is 200%.
7
Cleave
1
Support
Has a chance to perform an additional attack after defeating a target with a conventional attack. Note that the chance goes up the more damage you deal in relation to the defeated target's remaining HP.
8
Evade 20% Up
2
Support
Raise evasion by 20%.
9
Shunshin
Command
Raise evasion to maximum for six turns.
*The upper limit for evasion is 150%.
10
Kairai
Command
The target of the enemy's single-target attack will be the ally you select, but only for the turn in which the ability is used.
11
Dual Wield
2
Support
When equipping a weapon in each hand, normally only 50% of the weapons' Physical Attack is applied to the character's Physical Attack. This support ability allows 100% to be applied.
12
Kakuremi
Command
Lower your chances to being targeted by enemies to the lowest level possible for five turns.
13
Evade 30% Up
3
Support
Raise evasion by 30%.
14
Frenetic Fighting
2
Support
The limit on the number of attacks rises from sixteen to thirty-two.