Jump to navigation
Jump to search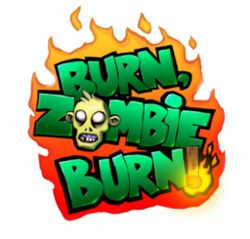 Neoseeker Related Pages
Links
Burn Zombie Burn! is a top-down shooter released on the PlayStation Network for the PlayStation 3 on March 26, 2009 followed by a Windows version in 2010 and a Mac OS X version in 2011. The player controls the main character, Bruce, against a horde of zombies that never ends. Zombies may get stronger and larger as the game progresses, as well as the weapons available for use. There are six levels with varying environments, including a graveyard, military base, and woods.
In Burn Zombie Burn! the player controls a character called Bruce, against a never ending horde of various zombies. The objective of the game is kill as many zombies as possible before he dies, while reaching certain score thresholds that unlock more of the game.
Fundamentally, the game is an infinite play, score-chasing, arena-based, shooter. The core mechanic, as described in the game's title, is about setting zombies on fire. In order to score high, the player has to set zombies on fire and each zombie on fire adds to their score multiplier. Flaming zombies are also more dangerous as they run faster and deal more damage to the player if they get too close.
Table of Contents