Jump to navigation
Jump to search
This is the first game in the CLANNAD series. For other games in the series see the CLANNAD category.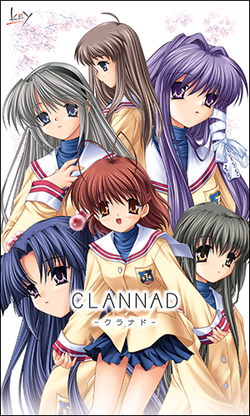 CLANNAD
Developer(s)
Key
Publisher(s)
Prototype (company), Visual Arts, Sekai Project, Interchannel
Year released
2004
System(s)
Windows, PlayStation 2, PlayStation Portable, Xbox 360, PlayStation 3, Android, PlayStation Vita, PlayStation 4, Nintendo Switch
Series
CLANNAD
CLANNAD is a Japanese visual novel developed by Key and released on April 28, 2004 for Windows. While both of Key's first two previous works, Kanon and AIR, had been released first as adult games and then censored for the younger market, CLANNAD was released with a rating for all ages. It was later ported to the PlayStation 2, PlayStation Portable, Xbox 360, PlayStation 3, PlayStation Vita, PlayStation 4, and Nintendo Switch consoles. An English version was released for Windows on Steam by Sekai Project in 2015, and by Prototype on the PlayStation 4 and Switch in 2018 and 2019, respectively. The story follows the life of Tomoya Okazaki, an average high school student who meets many people in his last year at school, including five girls, and helps resolve their individual problems.
The gameplay of CLANNAD follows a branching plot line which offers pre-determined scenarios with courses of interaction, and focuses on the appeal of the five female main characters by the player character. The game was ranked as the best-selling PC game sold in Japan for the time of its release, and charted in the national top 50 several more times afterwards. Key went on to produce an adult spin-off titled Tomoyo After: It's a Wonderful Life in November 2005, which expanded on the scenario of Tomoyo Sakagami, one of the five heroines from CLANNAD.
There are six main plot lines that the player will have the chance to experience, five which are initially available. Throughout gameplay, the player is given multiple options to choose from, and text progression pauses at these points until a choice is made. To view all plot lines in their entirety, the player must replay the game multiple times and make different choices to change the plot progression.
When first playing the game, the scenarios for all five heroines and additional smaller scenarios are available in what is called the School Life story arc. When the player completes a character's scenario, he or she receives an orb of light. When eight of these lights are obtained, the game's second story arc, called After Story, is made available. One of the lights disappears during School Life, but reappears in After Story. To view the true ending of Clannad, all 13 lights must be obtained.
CLANNAD's story revolves around Tomoya Okazaki, a third year high school student who dislikes his life. Tomoya's mother (Atsuko) died when Tomoya was young, leaving his father (Naoyuki) to raise him. After the accident, Tomoya's father turned to alcohol and gambling, and had frequent fights with his son. One day, Naoyuki, while arguing with his son, slammed Tomoya against the wall, dislocating Tomoya's shoulder. This injury prevents Tomoya from playing on the basketball team, and causes him to distance himself from others. Ever since then, his father has treated Tomoya nicely, but distantly, as if Tomoya and he were strangers rather than a family. This hurts Tomoya more than his previous relationship with his father, and the awkwardness of returning home leads Tomoya constantly to stay out all night. Thus his delinquent life begins. Tomoya's good friend Youhei Sunohara, who was thrown out of the soccer club over a dispute with his seniors, is also a delinquent and often hangs out in his dorm room with Tomoya doing nothing much.
The story opens on Monday, April 14, 2003, at the beginning of the school year, when Tomoya meets Nagisa Furukawa, a soft-spoken girl who is one year older than he is but is repeating her last year in high school due to being sick much of the previous year. Her goal is to join the drama club which she was unable to do due to her sickness, but they find that the drama club was disbanded after the few remaining members graduated. Since Tomoya has a lot of time to kill, he helps Nagisa in reforming the drama club. During this period, Tomoya meets and hangs out with several other girls whom he gets to know well and help with their individual problems.
Table of Contents