Jump to navigation
Jump to search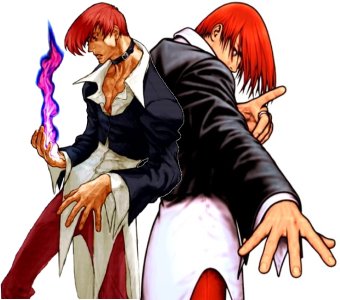 For more information about Iori, see his King of Fighters (Orochi Saga) and King of Fighters (Nests Saga) entries.
Iori Yagami made his first appearance in the Neo Geo fighting game, The King of Fighters '95. He is a central recurring character and the initial enemy (and eventual rival) of Kyo Kusanagi. He wears an instantly recognizable outfit of a black jacket (slightly cut off above the waist with a white crescent moon on the back) over a long white button-down shirt with the sleeves open, red pants that are tied together just below the knees with a red belt, and a black leather collar around his neck. He also wears a plain silver ring around his left middle finger. The significance of the ring (if any) is unknown. Iori is the current descendant of the Yagami clan (it is rumored that Rock's mother is a descendant of the Yagami clan; because she is the descendant of a female she does not have the last name Yagami). Kyo and Iori continue the ancient feud, though fate would (somewhat) steer them off the footsteps of their ancestors.
Pro version changes
[
edit
]
Iori's Oniyaki move has improved priority. The first hit of the version knocks down so that Iori is not left vulnerable if it doesn't get all the hits.
His Kuzukaze is faster, but still difficult to combo after and it still has very small range :(
The Ya Sakazuki super comes out closer together, and doesn't allow Iori as much time to charge his SNK bar when blocked (he can still link from a MAX Ya Sakazuki into his MAX Ya Otome if it hits from a distance).
Yami Barai recovery is a bit better.
It is much harder to combo off of Iori's crossup, as it doesn't seem to "pull" your opponent towards you after a hit as much as it used to.
| Name | | Input |
| --- | --- | --- |
| Ge Shiki: Yuri Ori | + | |
| Ge Shiki: Goufu In "Shinigame" | + | |
| 108 Shiki: Yami Barai | + | |
| 100 Shiki: Oniyaki | + | |
| 127 Shiki: Aoi Hana | + | (perform ×3) |
| 212 Shiki: Kototsuki In | + | |
| Kuzukaze | close + | |
| Kin 1211 Shiki: Ya Otome | + | |
| Ura 108 Shiki: Ya Sakazuki | + | , (hold to charge) |

| Name | | Input |
| --- | --- | --- |
| Ge Shiki: Yuri Ori | + | |
| Ge Shiki: Goufu In "Shinigame" | + | |
| Ge Shiki: Yumebiki | + | |
| 108 Shiki: Yami Barai | + | |
| 100 Shiki: Oniyaki | + | |
| 127 Shiki: Aoi Hana | + | (perform ×3) |
| 212 Shiki: Kototsuki In | + | |
| Kuzukaze | close + | |
| Kin 1211 Shiki: Ya Otome | + | |
| Ura 108 Shiki: Ya Sakazuki | + | (hold to charge) |