Jump to navigation
Jump to search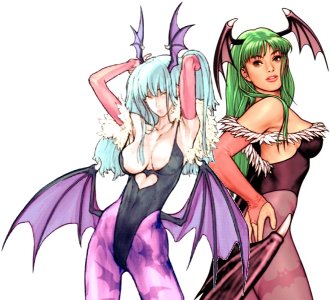 Click here for more information about Morrigan's other fighting game appearances.
Morrigan is the sole member of Capcom's roster to represent the Darkstalkers. In fact, she is the only non-human included in the game (Morrigan is a succubus), and only appears in the first Capcom vs. SNK as a hidden character, mirroring SNK's Nakoruru, the sole representative from Samurai Shodown (until Haohmaru is added in Capcom vs. SNK 2. She retains most of her signature moves from her appearance in the Darkstalkers series. Morrigan fights for nothing more than the sheer excitement of it. Her wings (on her both her back and head) can separate from her body and take the form of bats. She is actually far more powerful than even she realizes, having had her power divided into thirds. One third remains in her, one third resides in her father, and the final third was stored away in another dimension until it gained physical form and returned in Vampire Savior as Lilith, seeking to reunite with Morrigan.
Pro version changes
[
edit
]
The damage delivered by her Level 3/MAX supers has been increase, especially for Darkness Illusion.
Her Darkness Illusion Super Combo goes full screen.
Morrigan has a longer delay on her ground Soul Fist.
Morrigan's mid attacks have reduced range, forcing you to poke with her hard attacks at a distance which makes her chains harder to do.
She can only juggle off a Shadow Blade into her Cardinal Blade Super Combo with Level 2 and 3. Level 1 will miss, decreasing her effectiveness in SNK Grove.

| Name | | Input |
| --- | --- | --- |
| Shell Kick | + | |
| Soul Fist | + | |
| Shadow Blade | + | |
| Vector Drain | close, + | |
| Cardinal Blade | + | |
| Valkyrie Turn | + | , ( or ) |
| Darkness Illusion | | |

| Name | | Input |
| --- | --- | --- |
| Shell Kick | + | |
| Soul Fist | + | |
| Shadow Blade | + | |
| Vector Drain | + | |
| Soul Phoenix | + | |
| Cardinal Blade | + | |
| Valkyrie Turn | + | , |
| Darkness Illusion | | |