Jump to navigation
Jump to search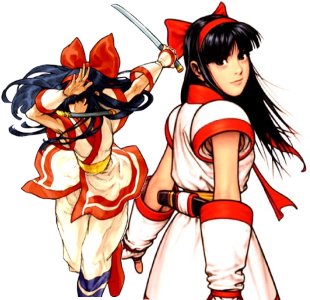 For more information about Nakoruru, see her Samurai Shodown entry.
Nakoruru is from the Samurai Shodown series. She is a young girl dressed in clothing that looks like Ainu traditional clothes. The basic colors of her clothes are white and red. She fights with a kodachi named Chichiushi and a hawk named Mamahaha assists her. The original idea of her came from the indigenous Ainu people of Hokkaidō, Japan, who are analogous in Japan to the Native Americans in the United States. As the Japanese perceive the Ainu as living closer to nature, Nakoruru's role in the game is of a defender of Mother Nature; in some material Nakoruru has been referred to as a priestess of the Ainu religion. She is present in Capcom vs. SNK as the secret SNK character (as Morrigan is the secret character from Capcom) and the sole representative from Samurai Shodown until she is joined by Haohmaru in Capcom vs. SNK 2.
Pro version changes
[
edit
]
She has had many of her moves toned down in priority.
She has longer delays at the end of her Mamahaha attacks or her Annu Mutsube or Lela Mutsube.
Annu Mutsube has shorter distance.
Nakoruru seems to have altered timing on her Shichikapu Kamui Irushika Super Combo.
She receives less recovery after her Shirikoro Kamui Nomi healing super.
Nakoruru's Mutsubes (both of them) are slower. Shichikapu Etu Brute is definitely slower (it can't combo anymore), but still pretty fast.

| Name | | Input |
| --- | --- | --- |
| Sankaku Tobi | Jump against a wall, | press in opposite direction |
| Rolling Slash | + | |
| Annu Matsube | + | |
| Lela Matsube | + | |
| Amube Yatoro | + | |
| Shichikapu Etu Brute | + | |
| Mamahaha Nitsukamaru | + | |
| ___Mamahaha Tsukamaki Kougeki | , , or | after Mamahaha Nitsukamaru |
| ___Mamahaha Kara Okiru | | after Mamahaha Nitsukamaru |
| ___Kamui Mutsube | + | after Mamahaha Nitsukamaru |
| ___Shichikapu Ai | + | after Mamahaha Nitsukamaru |
| Shichikapu Kamui Irushika | + | |
| Shirikoro Kamui Nomi | + | |
| __Cancel | + | during Shirikoro Kamui Nomi |

| Name | | Input |
| --- | --- | --- |
| Sankaku Tobi | Jump against a wall, | press in opposite direction |
| Rolling Slash | + | |
| Annu Mutsube | + | |
| Lela Mutsube | + | |
| Kamui Rimse | + | (press for another hit) |
| Amube Yatoro | + | |
| Mamahaha Nitsukamaru | + | |
| ___Mamahaha Tsukamaki Kougeki | | , , , or after Mamahaha Nitsukamaru |
| ___Yatoro Pokku | ( or +) | after Mamahaha Nitsukamaru |
| ___Mamahaha Kara Okiru | | after Mamahaha Nitsukamaru |
| ___Shichikapu Ai | + | after Mamahaha Nitsukamaru |
| ___Kamui Mutsube | + | after Mamahaha Nitsukamaru |
| Shichikapu Kamui Irushika | + | |
| Elerush Kamui Rimse | + | |
| Shirikoro Kamui Nomi | + | (cancel with ) |