Jump to navigation
Jump to search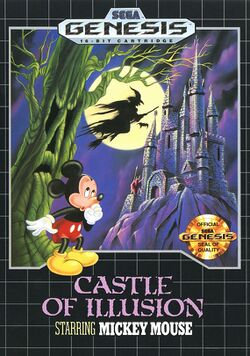 Castle of Illusion Starring Mickey Mouse, Mega Drive version is known in Japan as I Love Mickey Mouse: Fushigi no Oshiro Daibōken (アイラブミッキーマウス ふしぎのお城大冒険, Ai Rabu Mikkī Mausu: Fushigi no Oshiro Daibōken?, I Love Mickey Mouse: Mysterious Castle Great Adventure) is a 1990 platform game developed by Sega and released for the Mega Drive/Genesis. An 8-bit version of the game was later released for the Master System and Game Gear. It is the first game in Sega's Illusion video game series starring Mickey.
Castle of Illusion was very well received by critics, especially the original 16-bit version. It was re-released in 1998 in Japan as part of Sega Ages: Mickey Mouse & Donald Duck for the Sega Saturn, which features both Castle of Illusion and QuackShot. A remake of the game by Sega Studios Australia was released for PlayStation Network, Xbox Live Arcade and Microsoft Windows in September 2013. The game was also included on the Sega Genesis Mini in 2019.
The game follows Mickey Mouse on a quest to save Minnie Mouse from the evil witch Mizrabel, who wants to steal Minnie's youth and beauty. Upon meeting and conversing with the castle's true owner and king, Mickey is told that in order to defeat Mizrabel he must find the Seven Gems of the Rainbow. The majority of the seven gems are kept within various illusion-filled worlds (known in the game as levels) and are being guarded by Mizrabel's henchmen – which are known as the Masters of Illusion. Alongside the Masters of Illusion is Mizrabel's army. The army consists of bizarre creatures, such as enchanted mushrooms, toy soldiers, ball-juggling, unicycle-riding clowns, spiders, and armored knights.
Table of Contents