Jump to navigation
Jump to search
Journey back to 1792 and the Transylvanian countryside of Romania...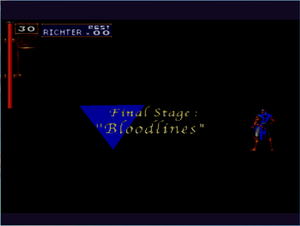 Objective
[
edit
]
This is a remake of the final stage of Rondo of Blood, where player, as Richter Belmont, fought with Dracula. The gameplay is vastly different as follows:
Richter has gained a lot of new moves. See the control page for more information.
The stage layout has been changed that, Richter will not fall off the bottom.
The entrance of the secret room has been changed that, it now requires hitting a hidden switch to release the ladder to the room. Inside the room are a few jars containing items of Alucard game, which cannot be carried over.
Dracula has both HP bars shown from the start of battle.
If Richter runs out of HP during Dracula battle, Maria Renard (young) will appear and aid him with power of her animal friends, making him invincible for the rest of battle. However, doing so will result in Alucard starting the actual game in worst status.
Battle result and Alucard game
[
edit
]
Here is a list of stage performance of prologue affecting the actual gameplay. The status modifiers do not work in Xbox 360 version, or any version when luck mode is active.
| Activity of Richter | Result on Alucard |
| --- | --- |
| Beat Dracula without taking any damage | STR +1, CON +1, INT +1, LCK +1, HP +5 |
| Beat Dracula with half or more HP remaining | STR +1 |
| Beat Dracula with less than half HP remaining | CON +1 |
| Beat Dracula with Maria's help | Get a Potion |
| Beat Dracula with all hearts used up | Get a Heart Refresh |
| Reveal the hidden room without taking anything inside | STR +1 |
| Get heart in the hidden room | INT +1, get a Neutron Bomb |
| Beat Dracula without sub weapon and without taking damage | CON +1, INT +1, LCK +5, HP +5 |
| Beat Dracula without sub weapon and with half or more HP remaining | INT +1 |
| Beat Dracula without sub weapon and with less than half HP remaining | STR +1 |
| Beat Dracula with Cross and without Maria's help | MP +5, Heart +5 |
| Beat Dracula with Holy Water and with half or more HP remaining | INT +1, Heart +5 |
| Beat Dracula in less than one minute | All parameters +5 |
| Beat Dracula in 1-2 minutes | LCK +2 |
| Beat Dracula in 2-3 minutes | LCK +1 |
| Beat Dracula in more than 10 minutes | CON +1 |