Jump to navigation
Jump to search
Enemies
[
edit
]
Skeleton
Werewolf

Heart: small (day), half (night)
Damage: 8

The animated remains of those who have long since died, they serve Lord Dracula with blind obedience and unending fearlessness. They wander back and forth along platforms.

Heart: small (day), half (night)
Damage: 8
Note: Twice the normal number of life points.

Werewolves wander the forests regardless of the time of day, leaping at any threat they encounter. Their biology is enhanced by their disease, and thus take twice as many hits to defeat as other enemies.

Vampire Bat
Crow

Heart: small (day), half (night)
Damage: 4

Vampire bats fly unceasingly through the air, winding their way up and down as they proceed in search of their next meal. More of a pest than a threat, they can knock you off platforms if you're not careful.

Heart: half (night)
Damage: 12

Crows only show up at night, and blend in with the darkness. When they spot a target, they rear up before diving to attack, and speed off when they are through.

Spiders
Eyeball

Heart: small (day), half (night)
Damage: 8 (webbing: 8)

Large spiders can be found both inside and out. They dangle down from strings when they detect prey beneath them. They are also prone to throwing webbing at a threat. The webbing itself has one life point, so it can be destroyed.

Heart: small (day), half (night)
Damage: 4

Said to be the eyes of Dracula that monitor his domain for signs of rebellion, these disembodied eyes float through the land, and singlemindedly rush towards anyone who looks suspicious.

Zombie Hand
Wolf

Heart: small (day), half (night)
Damage: 8

When walking through the cursed cemeteries, it is not uncommon to see the hands of the once living reaching out of the ground in an effort to grip any life that comes within reach.

Heart: small (day), half (night)
Damage: 8

Deadlier than any werewolf due to its sheer speed, you have a better chance of jumping over a charging wolf than you do of killing it, unless you are just as fast.

Medusa Head
Skull

Heart: small (day), half (night)
Damage: 8

Medusa heads which have detached from their bodies lack the power to turn a man into stone, but they are no less a frightful sight. They pass through the sky unerringly in one direction.

Heart: small (day), half (night)
Damage: 8

Skulls are a bit more of a threat. They have been given the order to stop the Vampire Killer at all costs, and travel towards him without hesitation in an effort to immobilize him.

Merman
Zombie

Heart: small (day), half (night)
Damage: 8 (fireball: 8)

These aquatic lifeforms have adapted and jump out of the water to briefly attack their prey before diving back down. They can attack by spitting fireballs at their target.

Heart: half (night)
Damage: 12

While towns bustle with villagers during the day, they retreat to their homes and bar their doors when the sun goes down. Zombies rise from the dead and terrorize the streets when you visit towns in the evening.

Hawk
Doublehead

Heart: half (day), half (night)
Damage: 12

These deadly birds of prey have been given a taste for human blood. Once they spot you, they hover in the air briefly before diving down and rake you with their talons.

Heart: half (day), half (night)
Damage: 12 (fireball: 8)

Two heads do not make this brute any smarter. They patrol certain platforms by walking up and down, plowing into anything that gets in their way. Every now and then, the spit fire in the direction that they are traveling.

Slime
Leech

Heart: outside - half (day), half (night), inside - small
Damage: outside - 12, inside - 8

The slimes that you encounter outside differ slightly from those found inside. Those found outside are stronger, and only bounce along the floor. Indoor slimes have low levels of health, and freely switch between the floor and the ceiling.

This strange creature makes its home among the poisoned waters of the marshes. It tries to leap out of the water to take prey by surprise. They are invulnerable to every weapon except the whip.

White Dragon
Mudman

Heart: half (day), half (night)
Damage: 12 (fireball: 8)

White dragons are the snake-like skeletons that occupy a single location and breathe fire from their mouths. They are only vulnerable to attacks to their heads. They are often too tall to jump over, so you must remove them.

Heart: half (day), large (night)
Damage: 16

Mudman often occupy the swampy waters of the marsh, and right out of the ground to attack before sinking back down and blending in with the mud. Don't underestimate their strength.

Kagidume
Ghost

Heart: half (day), large (night)
Damage: 16

The Kagidume are a cursed race of demons that live in shadows, and never think twice about rushing an enemy and attacking them with their razor sharp claws.

Heart: half (day), large (night)
Damage: 16

Many of the souls of the dead have been unable to cross over into the next world since Dracula's curse descended upon the land. As a result they are forced to wander across the land in pain and confusion.

Flameman
Yoke Roll

Heart: half (day), large (night)
Damage: 12 (flame: 12)

Men of living flame are known to wander the regions closer to Dracula's castle. In addition to covering their body with fire, they wield it as a weapon against trespassers.

Heart: half (day), large (night)
Damage: 8 (fireball: 8)

Much like the Mudmen, these one-eyed creatures rise up from the earth to attack before sinking back down. Unlike the Mudmen, they are capable of spitting fire at their target.

Mummy
Plant

Heart: large (day), large (night)
Damage: 32

For dead men wrapped in cloth, mummies possess a surprising amount of strength and speed, and can do a lot of damage to Simon in a short amount of time. Take them out before they get close enough to attack.

Heart: large (day), large (night)
Damage: 32 (fireball: 8)

These gigantic plants are capable of producing a fireball from the flower portion of their bodies. They are stationary, but they can do a great deal of damage to Simon if he is not careful and gets too close.

Harpy

Heart: large (day), large (night)
Damage: 32 (fireball: 8)

Like a large hawk with more intelligence, Harpies can attack you from both the air and the ground. In the air, they try to dive down and attack with their claws. On the ground, they walk about and throw fire at you.
Mansion only enemies
[
edit
]
In addition to Slimes and Spiders described above, you will also encounter these enemies inside the mansions.
Skeleton Knight
Armor

Heart: half
Damage: 8 (bone: 8)

Skeleton knights are the animated remains of fallen warriors who died in the five mansions. They attack any living being who comes near. Certain warriors are so bent on destruction that they throw their own bones at Simon, in an effort to attack him from far away.

Heart: half
Damage: 12 (spear: 12)

Very deadly, but not very bright, these spear wielding suits of armor pace back and forth along certain mansion platforms, looking for anything with a pulse to drive their spear into.

Devil
Bat

Heart: large
Damage: 16 (fireball: 8)

One of the most deadly monsters that you will encounter in a mansion, these living gargoyles bounce fearlessly throughout the mansion. If that weren't enough, they spit out not one, but two fireballs, one which rises and one which falls.

Bats found inside mansions are a little less driven then their outdoor cousins. They really wish to remain undisturbed and only get in Simon's way when he draws too close to them for their liking.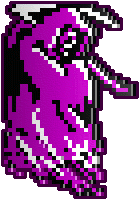 Death is most likely the first boss that you will encounter. He awaits you in a chamber before the Dracula part in the third mansion. He hovers in the air and has two main attacks: throwing small sickles at you and slashing you with his scythe. He slowly floats towards you and starts slashing. The sickles will begin to appear as soon as you enter the room.
To defeat him, approach him and whip him as fast as possible. When he gets too close, run under him to a new spot and repeat until he dies. If you wish to slow him down, you can mix in some attacks with the Mystic Flame once he is close enough to the ground for the pillars to reach him. The flame will lock him in place while you attack him. Another option, once he is close to the ground is using garlic. If timed appropriately, dropping garlic at his feet will cause him to freeze and slowly lose all his energy.
Fighting Death is actually optional, though you shouldn't ignore him if you wish to obtain the powerful Golden Knife, which can be of help against the next boss: Carmilla. If you don't want to fight him, you can choose to ignore him and go through the door on the right to reach the orb. Regardless of whether you defeat him or not, Death will always return when you enter the room.
Carmilla
[
edit
]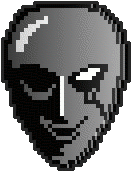 Though one of the most iconic bosses of the Castlevania series, Carmilla is not tremendously difficult to defeat, especially if you have Dracula's Rib equipped as a shield when you fight her. Carmilla, or more specifically her mask, hovers in midair, out of reach. Her primary attack is to drop bloody tears, which explode into a multi-directional burst when they hit the ground. However, the Rib will absorb these particles and prevent you from taking damage (provided you don't try to walk at the same time). Her other attack is to swoop around the room in a loop (she often does this several times in a row). Stand back just far enough to remain out of reach when she moves, and jump and hit her with your whip. Although she can do little to harm you, she has quite a lot of health, so you will have to hit her many times before she is defeated. If you have the Gold Knife, you can throw one at her as she loops around. Not only does each hit from it inflict significant damage, but she is frozen in place briefly as the flame strikes her multiple times. Given plenty of hearts (and by this time you're likely to have plenty), the Gold Knife is the ideal weapon against her.
Just as with Death, you can ignore Carmilla and simply go into the orb room. However, you will be unable to complete the game unless you kill her at least once. The Magic Cross is needed to get into Dracula's Castle and it can only be retrieved from her.
Unaware of the significance of the Carmilla character to the Castlevania series, this boss was originally labeled the Weeping Mask or Crying Mask in the North American release, although her name is referenced in a Clue Book in the game (with the name mistranslated as Camilla). She is the same Carmilla who would reappear in Dracula X: Rondo of Blood and Castlevania: Circle of the Moon (which also mistranslated her name as Camilla).
Dracula
[
edit
]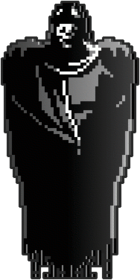 The source of Simon's problems, and the last boss of the game. By taking the five parts to his castle, Simon revives the Count so that he can finish him off and break the curse. There are multiple strategies to use against Dracula, some easier than others.
For a simple method, start throwing Sacred Flames at Dracula's feet as soon as you regain control. Keep throwing them, one after another, and Dracula won't even be able to move.
For a greater challenge, wait for him to begin his attack. He'll start orbiting the room so rapidly that multiple images of him will appear, while throwing large spinning projectiles known as "Dracula's Fangs" at you. The best place to be is in the center, on the altar where Dracula initially appears. Use your whip continuously, and you should be able to hit the Count, as well as destroy his fireballs. The Diamond or Gold Knife can help a bit, as they are both capable of hitting Dracula several times.
Whichever method you choose, once you defeat Dracula you'll see one of three endings, depending on how long it took you to complete the game.