Jump to navigation
Jump to search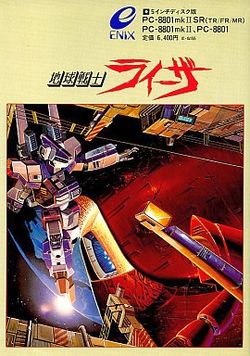 The Earth Fighter Rayieza (地球戦士ライーザ, Chikyū Senshi Raīza?) is an RPG developed and published by Enix (currently Square Enix) in 1985 for the NEC PC-8801, Fujitsu FM-7, Sharp X1, and MSX personal computer systems. The game was ported to the Famicom in December, 1987 by Nintendo under the title Ginga no Sannin (銀河の三人, Ginga no Sannin?). Unlike most other role-playing video games of the period, the game takes place in a sci-fi setting instead of a fantasy world. The game was never released outside of Japan.
The game's character designer was Go Nagai, who also drew the illustrations for the game's package. The game's background music was composed by Yukihiro Takahashi, who was also the drummer for the Japanese electropop band Yellow Magic Orchestra.
In the year 2300, the human race created an Earth federation government and spread out into space to begin colonizing the surrounding planets. However, an alien species from the far reaches of outer space began attacking the human forces, putting the very survival of the human race at stake. Though it was only a matter of time before Earth fell to the enormous power of the enemy forces, the Earth's army commander issued an order calling all of the units dispersed around the colonized planets to return to Earth. The player takes the role of a young soldier who was stationed with the Rayieza unit on the planet Mars. The journey begins as he makes his way back to Earth along with the other members of his unit.
Table of Contents