Jump to navigation
Jump to search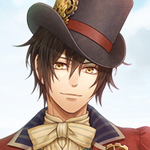 A notorious and nefarious master thief who is perpetually cheerful, optimistic, and overflowing with confidence — traits more than justified given his overwhelming success. After encountering Cardia, he whisks her away to London for reasons known only to himself.
Clear routes for the other four characters to unlock Lupin's route.
Chapter 1: London Steam
[
edit
]
Take his hand ("Refuse" leads to a bad end)
Go with Lupin
Remain defensive
Chapter 2: The Strongest Stalker
[
edit
]
I'm going with Lupin
Attack!
Chapter 3: A Girl's Education
[
edit
]
Ask Lupin to teach me
Run!
Ask Lupin to teach me
Remember Van Helsing's lessons
Chapter 4: Train Robbery
[
edit
]
Agree
Check on Lupin
Leave the station
Speak with Lupin
Chapter 5: The Vampire's Requiem
[
edit
]
Think it's a good idea
Persuade him
Ask about his past
Chapter 6: Negotiated Solution
[
edit
]
Run into a back alley
Can't let him do this!
Stay at the hotel
Chapter 7: The Buoyant and the Bellicose
[
edit
]
I don't really understand
Assist with repairs
Chapter 8: Nobody Understands the Truth
[
edit
]
Chapter 9: Forgiveness for the Past
[
edit
]
Chapter 10: The Fires of Battle
[
edit
]
I'm going to help, too
Stall for time ("Attempt to resist" leads to a bad end)
Chapter 11: A Hero
[
edit
]
Chapter 12: Code: Realize
[
edit
]
Don't take it ("Take the pill" leads to a bad end)
Chapter 13: Warmth
[
edit
]
I can't let him know I'll become a monster ("I can't tell him that reason," then "stay strong" for the normal end as well as the final misc. CG)
Stay strong ("Give up" leads to a bad end)