Jump to navigation
Jump to search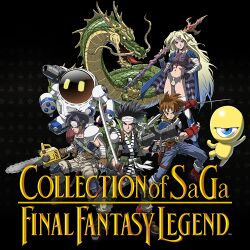 Collection of SaGa: Final Fantasy Legend is a compilation three SaGa games. It was released for the Nintendo Switch, Windows, Android and iOS.
New Features
[
edit
]
Quick save / load
Character speed boost
Adjustable screen magnification
Game Boy display mode – mirroring original GB screen layout
New commemorative music and illustrations
Choose from 8 x different in-game wallpapers
Achievements
[
edit
]
There are 10 achievements for Steam.
| Picture | Name | Description |
| --- | --- | --- |
| | The SaGa Commences | Viewed the title screen. |
| | Trend Setter | Viewed the options menu. |
| | Speedy Hero | Changed game speed settings. |
| | Tower Climber | First played FINAL FANTASY LEGEND. (English or Japanese) |
| | Treasure Seeker | First played FINAL FANTASY LEGEND II. (English or Japanese) |
| | Time Warrior | First played FINAL FANTASY LEGEND III. (English or Japanese) |
| | Deity Buster | Completed FINAL FANTASY LEGEND. (English or Japanese) |
| | World Saver | Completed FINAL FANTASY LEGEND II. (English or Japanese) |
| | Time Commander | Completed FINAL FANTASY LEGEND III. (English or Japanese) |
| | SaGa Veteran | Completed all FINAL FANTASY LEGEND titles. (English or Japanese) |