Jump to navigation
Jump to search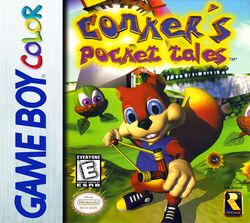 Conker's Pocket Tales is an adventure video game released by Rare for the Game Boy Color in 1999 that stars Conker himself and he has to rescue his girlfriend Berri from the Evil Acorn.
The game features a dual-format cartridge that serves as both a Game Boy and Game Boy Color game. The gameplay is presented from an overhead perspective where players control Conker the Squirrel. Unlike Conker's Bad Fur Day and Conker: Live & Reloaded, which are rated M video games featuring major amounts of violence and a different Conker with an entirely new personality, Conker's Pocket Tales is lighthearted in nature, and designed to appeal to younger gamers.
This is the only known game to be released as a rated E Conker game starring Conker, excluding Diddy Kong Racing which has Conker as a minor playable character who later became replaced by Tiny Kong in the remake.
Table of Contents