Jump to navigation
Jump to search
This is the first game in the Counter-Strike series. For other games in the series see the Counter-Strike category.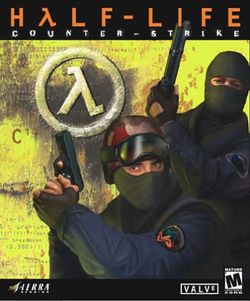 Counter-Strike is a very popular first-person shooter. The original Counter-Strike was a total-conversion mod for Half-Life made by a team of fans, which was bought by Valve Software to make the game an official release. Since then a stand alone game, Counter-Strike: Condition Zero, has been released. In 2004, Counter-Strike: Source was made available to those who pre-ordered Half-Life 2 via Steam. Ports of Counter-Strike have showed up on the Xbox. Now, with 3 versions of the game (on the PC), Counter-Strike has become one of the largest online games ever.
It has been patched over and over again, and each has changed both the game and how the community views it. For example changes between 1.4 and 1.5 removed the ability to bunny hop; a major advantageous glitch technique that allowed players to move much more quickly. Most notable, however, is the change from 1.6 to Source. The changes made in Source were so great that veteran players decided not to switch over and have still yet to do so. Aside from graphics and elements of the Half-Life 2 physics engine, the mechanics within the game are so different that it actually seems like a different game. Originally the biggest problem players had with source was a glitchy hitbox, which was later patched.
Today, 1.6 CAL Leagues are still very popular and ongoing.
Table of Contents