Jump to navigation
Jump to search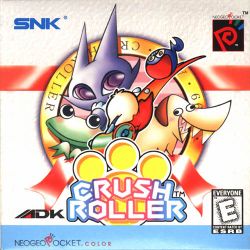 Crush Roller is an arcade game developed by Alpha Denshi in 1981. It was licensed for distribution in Asia by Kural Samno, in the United States by Williams, and in Europe by Exidy. In 1999 it was remade on the Neo Geo Pocket Color.
In this maze-themed game, the player controls a paintbrush, used to paint the corridors of an aquarium, all while being pursued by two predatory fish (one blue, the other yellow). The player has to avoid these fish at all costs, as if they catch the paintbrush, it is destroyed. However, the player can turn the tables on these foes by using one of two rollers — located at two points on the board — and crush them for bonus points.
Once per round, another character — either a human or animal adversary — serves to leave tracks over the painted areas of the board. The player can stop this critter-of-sorts (it ranged from kittens and mice to car wheels and human footprints) by colliding with it for bonus points; however, the paintbrush must repaint the spoiled areas.
To complete a round, the player must paint the entire maze in its entirety (and repaint any spoiled areas). The reward: A new maze, with more challenges ahead.
Table of Contents