Jump to navigation
Jump to search
Controls
[
edit
]
Handlebars: Use the handlebars to steer your bike (red for 1P, black for 2P, yellow for 3P and blue for 4P) left and right, just as you would with any real motorcycle; unlike in the two Suzuka 8 Hours games (on which this one's CPU-controlled bikes are based), the bikes do not have gear shifters.
Gas Pedal: Step on the gas pedal to accelerate your bike; the harder you step on it, the faster your bike goes (until it hits another bike or billboard).
Break Pedal: Step on the break pedal to decelerate your bike; the harder you step on it, the slower your bike goes until it stops moving completely.
View Change Button: Use this button to change the view from the default third-person one to a first-person one (a camera on your rider's helmet).
Player Bikes
[
edit
]
Anthias (Novice)
[
edit
]
EASY RIDING.
GOOD IN SHARP TURNS.
110kw/11900rpm
9.0kg-m
NVR750R (Intermediate)
[
edit
]
GOOD BALANCE OF
SPEED AND HANDLING.
750cc
220ps/13500rpm
12.2kg-m/7000rpm
Wild Hog (Advanced)
[
edit
]
"POWER SLIDE" FOR FAST,
POWERFUL CORNERING.
1300cc
190ps/8000rpm
20.3kg-m/7000rpm
CPU Bikes
[
edit
]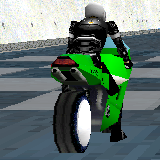 If one player is playing the game alone, then his position in the race shall never change from 1/1 regardless of how many of these green CPU-controlled bikes he passes; however, if two, three or four players are playing, and any of them are ahead of him in the race at any time, his position will be 2/2, 3/3 or 4/4. As mentioned above, they are also based on the CPU-controlled bikes from the two Suzuka 8 Hours games, but polygonal and in 32768 colours.