Jump to navigation
Jump to search
The murder weapon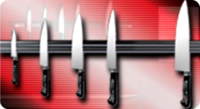 Use Evidence of a Struggle to shoot "didn't even have a chance to resist."

Use Kitchen Knife Set to shoot "some random knife."

Use Aoi's Account to shoot "when nobody was in the dining hall."
Q: So the person who took the knife from the kitchen was...
A:

The crime scene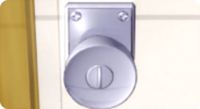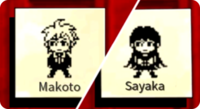 In the Hangman's Gambit, spell HAIR.

Select the Bathroom Doorknob.

Use Bathroom Doorframe to shoot "locked it."
Q: The important detail about the scene of the crime that they didn't know was...
A:

The crime took place in my room



Shoot Dorm Nameplates at "the room that Makoto was staying in."
Q: There's only one person who could have switched the nameplates. The only other person who knew we had switched rooms...
A:

The replica sword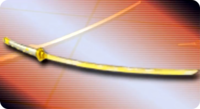 Use Replica Sword Sheath to shoot "a sword-based sneak attack."
Q: The part of her body that shows she never used the sword...
A:

Q: There's a certain regulation that talks about what happens to the bathrooms at nighttime...
A:

Q: The one who damaged the sheath...would had to have been the one *without* the sword.
A:

Sayaka's dying message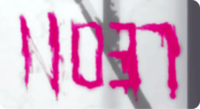 Use Dying Message to shoot "just aren't any more clues."
Q: There's no question that Sayaka wrote that message. And I can prove it...
A:

Evidence disposal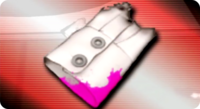 Select Burnt Shirt Piece.
Q: The burnt remains of the button-up shirt, which the killer wasn't able to get rid of... There's something about it we need to pay attention to in order to figure out who's responsible.
A:

Use Shattered Crystal Ball to shoot "you'd have to get close to the incinerator."
Q: The killer had to use the glass ball in a certain way. Which was...
A:

Q: It wouldn't have been much of a challenge at all for the killer. Because...
A: