Jump to navigation
Jump to search
The meeting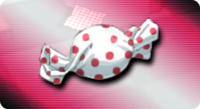 Use Aoi's Account to shoot "the only reason you have."

Use Pocket Trash to shoot "I never saw her."
Q: Sakura could only have gotten the candy *after* the incident in the nurse's office. And the reason I know that is...
A:

When Sakura got that candy



Q: But when Kyoko found the magazine with the dying message in it, it was...
A:

Absorb "magazine shelf" and shoot "Ogre's body was discovered."

Final Strike: Kyoko's Examination Summary
Tampering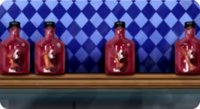 Q: So what is it that Hiro did that doesn't make sense...?
A:

Why the magazine was hidden



Q: Someone who wouldn't like what had been written. There's only one choice...
A:

Use Kyoko's Examination Summary to shoot "just once."

In the Hangman's Gambit, spell CHESS PIECE.
Q: Wait...then the bottle that was missing...
A:

Select Monokuma Bottle Experiment.
Q: It must have been used by...
A:

Final Strike: Locker Handprints
The poisonous powder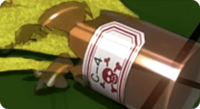 Use Status of Sakura's Body to shoot "in front of the shelf."

Select the Magazine Shelf Bloodstain.
Q: The reason there's no way she was hiding in the locker is because...
A:

Use Monokuma File #4 to shoot "the shot to her head."
Q: It was on the same shelf as all the supplements, I'm positive...
A:

In the Hangman's Gambit, spell PROTEIN DRINK.
Q: Something at the scene...?
A:

Select Footprints in the Powder.
Q: Sneakers, huh? The only people wearing sneakers here are...
A:

Use Footprints in the Powder to shoot "from Section C to Section A."
Q: The shard of light blue glass Kyoko found in the bottle of poison... I think I remember now. I broke something this same shade of blue...
A:

Q: Where was it the bottle of poison should have been when I broke the rec room window? According to what Hina told us...
A:

Use Empty Protein Drink to shoot "the rec room was unlocked."
Q: The one who got the poison from the chem lab and brought it to the rec room... It had to have been...
A:

Final Strike: Yellow Powder
Q: And that explains why we couldn't solve the mystery of the locked room. Because, of course...
A:

Sakura wanted to create the locked room