Jump to navigation
Jump to search
In the Nonstop Debate, use Monokuma File 2 to shoot and he was eaten alive.
Choose "before the show started."
Use Water Tank Trick to shoot secret hatch.
In the Rebuttal Showdown, use Wet Staircase to slash would have been water.
Choose "she changed her uniform."
Use Gonta's Account to shoot no one saw anything.
Use Square Glass Pane to shoot body and piranhas were separated.
Choose Crammed Piranhas.
Choose "yesterday, before nighttime".
Choose "witnessing Ryoma".
In the Mass Panic Debate, use Kokichi's Account to shoot did not stay at the gym.
Choose "Miu Iruma."
Choose "Maki Harukawa."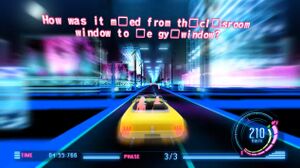 Select Kokichi Oma.
In the Nonstop Debate, turn Maki Alone into a lie to shoot prove that this meeting took place.
In the Debate Scrum, use the following order:

Announcement
Missed
Rules
Tank
Off-limits
Testimony

Choose "the ladder doesn't reach the window."
Use Pool Rules to shoot only place that fits is the pool.
Select the Scratched Sink.
Select the Scratched Handcuffs.
In the Spot Selection, select the open window.
In Psyche Taxi, collect Hidden Monokuma #5 while forming the third question and make the following choices:

Lab window
Gym window
From window to window

Select the rope on the floor next to the staircase.
Select the Tennis Net Cable.
In the Hangman's Gambit, spell "ROPEWAY."
In Mind Mine, reveal and select the inner tube.
Choose "it was nighttime."
Select Kirumi Tojo.
Use Alibis For Yesterday to shoot could have been done by anyone.
In the Rebuttal Showdown, use Marked Window Frame to slash but there is no evidence.
Select the Black Piece of Fabric.
At the end of the Argument Armament, organize the words to form the phrase "KI RU MI'S GLOVES."
Conclusion
[
edit
]