Jump to navigation
Jump to search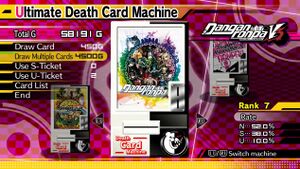 Ultimate Death Card Machine (カードデスマシーン, Kādo Desu Mashīn?) is a gacha game within Danganronpa V3: Killing Harmony, unlocked after the main game has been completed. Currency received from Despair Dungeon: Monokuma's Test, in the form of G, can be used to dispense cards of varying rarity (with N being common, S being rare, and U being very rare) from one of three machines (representing each game in the Danganronpa trilogy). The cards received from this mode can be leveled up in Ultimate Talent Development Plan, giving them stat boosts. Those leveled up cards can then be used in Despair Dungeon to proceed further, and the further into Despair Dungeon the party travels, the higher the chance the Ultimate Death Card Machine will dispense a rare card. However, the cost of using the Death Card Machine will also increase to balance out the improved rate. The attributes that can be boosted for each card are as follows: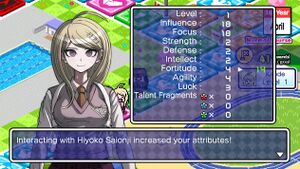 Influence represents the character's health in Despair Dungeon. If the party's Influence drops to 0, the game concludes.
Focus represents the character's MP, which is used for skills.
Strength represents the character's damage output against enemies.
Defense represents the character's damage tolerance.
Intellect represents the strength of the character's skills.
Fortitude represents the character's damage tolerance for enemy skills and allows them to occasionally dodge status effects.
Agility represents the character's speed and allows them to strike first against enemies.
Luck represents the success rate of a character's escapes as well as their critical hit chance.
Character cards are also separated by type. Types reflect the character's personality and impact the direction of their stat growth. The three types of cards that can be collected are as follows:
Sports types experience greater stat boosts in Strength and Agility, and are primarily physical attackers.
Intelligent types experience greater stat boosts in Focus and Intellect, and are primarily skill attackers.
Variety types experience balanced stat boosts and are the most versatile in combat.
Below is a list of cards that can be collected, split by their game of origin, including their minimum and maximum stats and types.
Character
Stats (Min-Max)
Type
Influence
Focus
Strength
Defense
Intellect
Fortitude
Agility
Luck
Aoi Asahina
18-175
15-162
4-125
2-75
1-50
1-50
5-150
3-100
Sports
Byakuya Togami
10-108
25-270
1-50
2-75
5-150
3-100
2-75
1-50
Intelligent
Celestia Ludenberg
15-162
20-216
1-50
2-75
4-125
2-75
4-125
3-100
Intelligent
Chihiro Fujisaki
10-122
25-270
1-50
2-55
5-150
3-100
2-75
1-50
Intelligent
Genocide Jack
20-216
10-108
5-150
3-100
1-50
2-75
2-75
2-75
Sports
Hifumi Yamada
18-175
18-175
2-75
2-75
2-75
4-125
4-125
3-100
Variety
Junko Enoshima
15-162
20-216
3-100
2-75
4-125
2-75
2-75
1-50
Intelligent
Junko Enoshima (Mukuro)
18-175
15-162
4-125
2-75
1-50
1-50
5-155
3-95
Sports
Kiyotaka Ishimaru
15-162
25-270
1-50
3-100
2-75
5-150
2-75
1-50
Variety
Kyoko Kirigiri
15-162
20-216
1-50
2-75
4-125
2-75
4-125
3-100
Intelligent
Leon Kuwata
18-175
15-162
4-125
2-75
1-50
1-50
5-150
3-100
Sports
Makoto Naegi
18-175
18-175
1-50
2-75
3-100
3-100
4-125
7-201
Variety
Mondo Owada
25-270
15-162
2-75
5-150
1-50
4-125
1-50
2-75
Sports
Monokuma
20-216
10-108
5-150
3-100
1-50
2-75
2-75
2-75
Sports
Sakura Ogami
20-216
10-108
5-150
3-100
1-50
2-75
2-75
2-75
Sports
Sayaka Maizono
18-175
18-175
2-75
2-75
2-75
4-125
4-125
3-100
Variety
Toko Fukawa
10-108
25-270
1-50
2-75
5-150
3-100
2-75
1-50
Intelligent
Yasuhiro Hagakure
15-162
25-270
1-50
3-100
2-75
5-150
2-75
1-50
Variety
Character
Stats (Min-Max)
Type
Influence
Focus
Strength
Defense
Intellect
Fortitude
Agility
Luck
Akane Owari
18-175
15-162
4-125
2-75
1-50
1-50
5-150
3-100
Sports
Byakuya Togami (Imposter)
15-162
20-216
3-100
2-75
5-150
2-75
2-75
1-50
Intelligent
Chiaki Nanami
10-108
25-270
1-50
2-75
5-150
3-100
2-75
1-50
Intelligent
Fuyuhiko Kuzuryu
18-175
18-175
2-75
2-75
2-75
4-125
4-125
3-100
Variety
Gundham Tanaka
18-175
18-175
2-75
2-75
2-75
4-125
4-125
3-100
Variety
Hajime Hinata
25-270
15-162
2-75
5-150
1-50
4-125
1-50
2-75
Sports
Hiyoko Saionji
15-162
25-270
1-50
3-100
2-75
5-150
2-75
1-50
Variety
Ibuki Mioda
18-175
18-175
2-75
2-75
2-75
4-125
4-125
3-100
Variety
Izuru Kamukura
20-216
10-108
5-150
3-100
1-50
2-75
2-75
2-75
Sports
Kazuichi Soda
15-162
20-216
3-100
2-75
4-125
2-75
2-75
1-50
Intelligent
Mahiru Koizumi
15-162
20-216
1-50
2-75
4-125
2-75
4-125
3-100
Intelligent
Mikan Tsumiki
15-162
25-270
1-50
3-100
2-75
5-150
2-75
1-50
Variety
Monomi
15-162
25-270
1-50
3-100
2-75
5-150
2-75
1-50
Variety
Nagito Komaeda
18-175
18-175
1-50
2-75
3-100
3-100
4-125
7-201
Variety
Nekomaru Nidai
25-270
15-162
2-75
5-150
1-50
4-125
1-50
2-75
Sports
Peko Pekoyama
20-216
10-108
5-150
3-100
1-50
2-75
2-75
2-75
Sports
Teruteru Hanamura
18-175
18-175
2-75
2-75
2-75
4-125
4-125
3-100
Variety
Sonia Nevermind
10-108
25-270
1-50
2-75
5-150
3-100
2-75
1-50
Intelligent
Usami
15-162
20-216
3-100
2-75
4-125
2-75
2-75
1-50
Intelligent
Danganronpa V3: Killing Harmony
[
edit
]
Character
Stats (Min-Max)
Type
Influence
Focus
Strength
Defense
Intellect
Fortitude
Agility
Luck
Angie Yonaga
15-162
25-270
1-50
3-100
2-75
5-150
2-75
1-50
Variety
Gonta Gokuhara
25-270
15-162
2-75
5-150
1-50
4-125
1-50
2-75
Sports
Himiko Yumeno
15-162
25-270
1-50
3-100
2-75
5-150
2-75
1-50
Variety
Kaede Akamatsu
18-175
18-175
2-75
2-75
2-75
4-125
4-125
3-100
Variety
Kaito Momota
25-270
15-157
2-75
5-150
1-50
4-125
1-45
2-70
Sports
K1-B0
18-175
18-165
2-75
2-75
2-75
4-125
4-125
3-100
Variety
Kirumi Tojo
15-162
20-216
3-100
2-75
4-125
2-115
2-115
1-50
Intelligent
Kokichi Oma
15-162
20-216
3-100
2-75
4-125
2-75
2-75
1-50
Intelligent
Korekiyo Shinguji
15-162
20-216
1-50
2-75
4-125
2-75
4-125
3-100
Intelligent
Maki Harukawa
20-216
10-108
5-150
3-100
1-50
2-75
2-75
2-75
Sports
Miu Iruma
10-122
25-270
1-50
2-55
5-150
3-100
2-75
1-50
Intelligent
Rantaro Amami
18-175
18-175
1-50
2-75
3-100
3-100
4-125
7-201
Variety
Ryoma Hoshi
18-175
15-162
4-125
2-75
1-50
1-50
5-150
3-100
Sports
Shuichi Saihara
10-108
25-270
1-50
2-75
5-150
3-100
2-75
1-50
Intelligent
Tenko Chabashira
18-175
15-162
4-125
2-75
1-50
1-50
5-155
3-95
Sports
Tsumugi Shirogane
15-162
20-215
1-50
2-75
4-125
2-75
4-125
3-100
Intelligent