Jump to navigation
Jump to search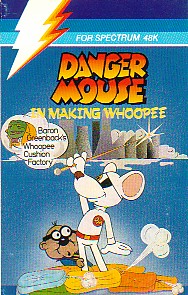 Danger Mouse in Making Whoopee is an action game that was released by Creative Sparks for the Sinclair ZX Spectrum and Amstrad CPC in 1985 (and designed by Phil Snell); it is the third, and final, title in their Danger Mouse series, and is once again based on that Cosgrove-Hall/Thames Television series of the same name. However, at some point after this, a Danger Mouse game was released for the Commodore Amiga by an unknown publisher - but despite featuring the voice of Sir David Jason, Myfanwy Talog (1944-1995) and Terry Scott (1926-1994), it was a "knock-off" of Century Electronics' 1983 arcade title, Hunchback, and as a result, is almost as maligned as Alternative Software's Count Duckula 2 (the ZX version of which was named the "Number One Worst Speccy Game Of All Time"). There would not be another Danger Mouse game until the release of Danger Mouse: Quiz for iOS, in 2010; eighteen years after Danger Mouse had made his final ITV appearance, on Bunglers in Crime.
This is from the back of the cassette's inlay card, the front of which is shown in the image to the right:
While on holiday in the Cheddar Gorge, Danger
Mouse receives a telegram from Colonel K.
As suspected Greenback is up to his usual tricks.
Not only has Penfold been kidnapped but
according to intelligence reports, Greenback
and his henchmen are manufacturing whoopee
cushions which are to be put under every seat at
the U.N., thus causing chaos at the next
meeting.
In addition, the Baron has built secret gas
manufacturing plants, which must be shut
down before DM can discover the location of
the whoopee cushion factory. Once inside the
factory DM must find a Pointed Imploding
Needle, to puncture the cushions and then
rescue Penfold.
© Cosgrove-Hall Productions 1985
Table of Contents