Jump to navigation
Jump to search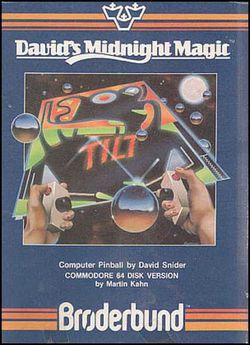 This guide is for the Brøderbund Software game. For the Atari 2600 game, see Midnight Magic.
David's Midnight Magic is an early computer pinball simulation written by David Snider and released by Brøderbund Software in 1982. The game was published in Europe by Ariolasoft and was originally released for the Apple II computer platform. Later versions appeared on the Commodore 64 and members of the Atari 8-bit family.
Along with Raster Blaster and Night Mission, David's Midnight Magic represented the first wave of home computer pinball simulations available with relatively realistic pinball features.
David Snider's brother, Eric, later used his first name in the title of Eric's Ultimate Solitaire.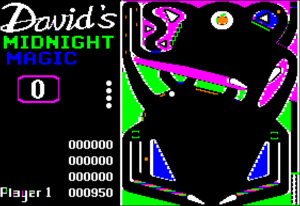 David's Midnight Magic is closely modeled after the popular real-life pinball table Black Knight, released by Williams in 1980. The computer simulation, unlike Black Knight, contains bright colors such as green, pink, and blue (depending somewhat on the version of the game) in contrast to Black Knight's darker medieval theme. Atari released a pinball game called Midnight Magic for the Atari 2600 that plays much differently to the similarly-named David's Midnight Magic.
Table of Contents