Jump to navigation
Jump to search
This is the first game in the Dead to Rights series. For other games in the series see the Dead to Rights category.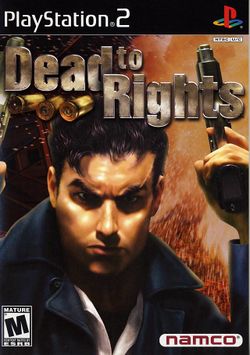 For the Game Boy Advance version, see Dead to Rights (GBA).
Dead to Rights is a third-person shooter video game published by Namco for the PlayStation 2, Xbox and Nintendo GameCube. It was eleased on August 8, 2002 as a timed-exclusive for the Xbox platform.
Jack Slate cracks down on crime in Grant City. When his father gets mixed up in a mysterious crime, he has no other choice than to seek revenge. With the help of his K-9 companion Shadow, Jack kicks butt over all the slums while putting his reputation on the line. Going against orders, this renegade cop stops at nothing to bring the bad guys down.
Gameplay
[
edit
]
Dead to Rights features gameplay similar to that of games in the Max Payne series; using mixed perspectives and elements of time distortion. The game is linear and is mostly action based. There are, however, several "mini games" that put the player in various gameplay positions, for instance a scene where the player must time button presses correctly; a concept vaguely similar to DDR.
Table of Contents