Jump to navigation
Jump to search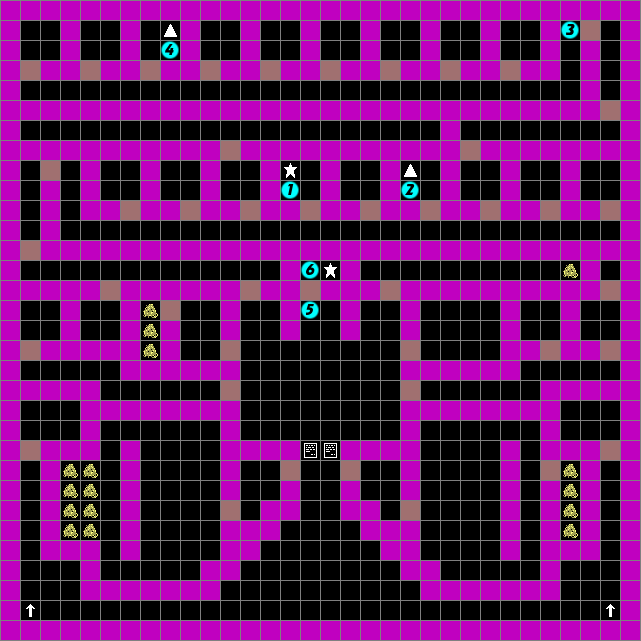 Key Points
[
edit
]
You will find the crown that allows you to speak safely with the princess at (22, 13).
There is fake Princess Etna at (22, 19) who will force you into a fight.
The real princess is located at (29, 7), but you must possess the crown first.
You will always encounter a Shadow Knight at (29, 27).
There is a Stone Statue garding a door at (15, 14).
Beyond that door, you will find the Mark Ring by searching the ground at (17, 15).
Monsters
[
edit
]
| Enemy | Name | HP | EX | Gold | AC | AP | Abilities |
| --- | --- | --- | --- | --- | --- | --- | --- |
| ひのたましい | Death Fireball | 185 | 40 | 10 | 65 | 59 | Poison, magic resistance |
| あくまのめ | Devil Eve | 200 | 44 | 30 | 68 | 61 | Gust, Sleep |
| いしのきょじん | Stone Giant | 210 | 44 | 50 | 72 | 64 | |
| ひのあくま | Fire Devil | 220 | 50 | 20 | 73 | 65 | Gust, paralyze resistance |
| ちのけんし | Spirit Fencer | 235 | 50 | 100 | 73 | 68 | sleep resistance |
| やみのけんし | Shadow Knight | ~60 | 255 | 255 | ?? | ?? | |
| せきぞう | Stone Statue | 250 | 0 | 0 | 72 | 64 | |