Jump to navigation
Jump to search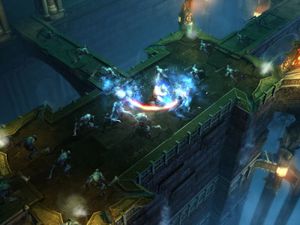 The game plays similarly to the other Diablo games before it, however the change in skills, classes, physics, graphics, and healing mechanics serve to change up the game entirely. Perspective during the game uses an isometric, overhead view to present the game to players.
Diablo III uses a similar style to its predecessors. While retaining many of the gameplay elements of the original, Diablo III has a focus on cooperative and team-based play. The proprietary engine incorporates Havok physics and feature destructible environments with an in-game damage effect. The developers aimed to make the game run on a wide range of systems, and stated that DirectX 10 is not required.
Multiplayer games are possible using Blizzard's Battle.net service, with many of the new features being developed for Starcraft II also being available for Diablo III. Players are able to drop in and out of sessions of co-operative play with others.
An enhanced quest system is stated to work in conjunction with a random level generator to ensure the game provides different experiences when replayed. A random encounter generator is planned to further increase this. Overall, the game will include a mixture of static and randomly generated levels.
Classes
[
edit
]
There are five classes in the game:
Players are able to choose either a male or a female character for any of the available classes, unlike previous games in the series, however no appearance customization has been announced.
The skill tree (customization) for classes was announced as being different (if not completely re-done) than what has appeared in previous games.
For additional information on specific skills, please see one of the following: