Jump to navigation
Jump to search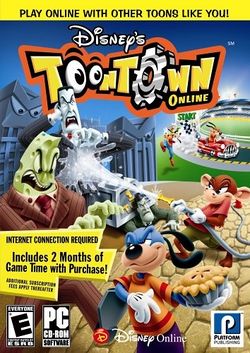 Neoseeker Related Pages
Links
Disney's Toontown Online was an interactive 3D RPG online computer game developed by the Walt Disney International Group. Earlier in its time, Toontown had a free 3-Day trial feature along with the option to pay for the game through credit card or gift card. Now Toons can access Toontown for free, but with limited game accessibility. The game was closed on September 19th, 2013.
Q: "Why did Toontown Online close?" A: "The Walt Disney Company is committed to offering high-quality, entertaining play experiences in both online virtual worlds and mobile apps. At this time, we are shifting our development focus towards other online and mobile play experiences. We deeply appreciate your enthusiasm and loyal support for Toontown Online and sincerely hope you will continue to enjoy the large variety of online and mobile play experiences Disney offers - with more to come soon!"
This game does not contain gore or fright. New players will find the place bright, secure, and easy. The gameplay is straightforward: destroy Cogs, become powerful, fight stronger Cogs and bosses. Players can have up to six Toons when subscribed fully. In the free trial, you may have only one.
So far, there are only three versions of Disney's Toontown Online: the United States edition, European version, and United Kingdom version. Each has unique features, and some even may be ahead of other versions. Players can only interact with others in the same version.
Disney's Toontown Online isn't just a training game: it is a conversational socialization game. The Friend's List provides a tool to track people you've met in the game. In the subscriptions, you will have the ability to chat using the keyboard to one another. Besides playing of the game, there is a thriving social network as well.
Table of Contents