Jump to navigation
Jump to search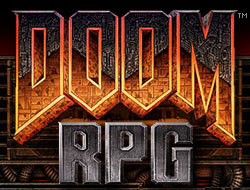 Doom RPG is a mobile phone game developed by Fountainhead Entertainment. It combines the Doom first-person shooter franchise with role-playing elements. The storyline incorporates many of the events of Doom 3, but involves different characters than those in the computer version. The game's engine was later used for another Fountainhead Entertainment title, Orcs & Elves.
The story occurs on a Martian Union Aerospace Corporation installation similar to Doom 3. The player is addressed to by NPCs in the game as Marine.
The game is divided into section based on Sectors in the base. The sectors are Entrance, Junction, Sectors 1 though Sectors 7, and Reactor. The Junction is the staging area or main town for the game.
Table of Contents