Jump to navigation
Jump to search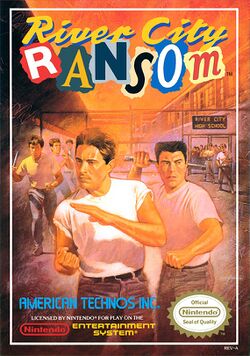 For the Game Boy Advance remake, see River City Ransom EX.
River City Ransom (ダウンタウン熱血物語, Downtown Nekketsu Monogatari?, "Downtown Hot-blooded Story"), later released as Street Gangs in the PAL regions, is an open world action role-playing beat 'em up game for the NES. It was developed by Technos Japan and originally released in Japan on April 25, 1989. It is the third game in Technos' Kunio-kun series released for the console, preceded by Renegade and Super Dodge Ball. Like its predecessors, River City Ransom underwent great changes in its storyline and graphical presentation during its localization in order to make the game more palatable in the Western market. It was one of the first console games published by North American subsidiary American Technos.
Remakes of the game have been released for the Sharp X68000, PC-Engine Super CD-ROM², and Game Boy Advance. The NES version was re-released for the Nintendo Wii Virtual Console in 2007 as well as the Nintendo Wii U Virtual Console in October 2015. It was also released on the Nintendo 3DS Virtual Console in the PAL Regions on July 25, 2013 and in North America on November 14, 2013. It was released again on the Nintendo Switch Online service on its launch day, September 18, 2018. In 2020, it was translated in Double Dragon & Kunio-kun Retro Brawler Bundle as Downtown Nekketsu Story, with the original story and characters.
Table of Contents