Jump to navigation
Jump to search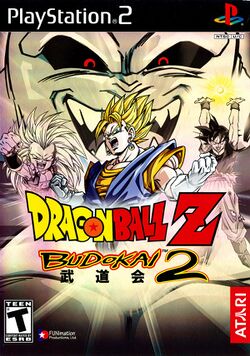 Neoseeker Related Pages
Links
Dragon Ball Z: Budokai 2, released as Dragon Ball Z 2 (ドラゴンボールZ2 Doragon Bōru Zetto Tsū?) in Japan, is a fighting game based upon the popular anime series, Dragon Ball Z. Budokai 2 is a sequel to Dragon Ball Z: Budokai and was developed by Dimps and published by Atari for the PlayStation 2 and Nintendo GameCube. It was released for the PlayStation 2 in North America on December 4, 2003, and on the Nintendo GameCube on December 15, 2004. The game was published in Japan by Bandai, and released for the PlayStation 2 on February 5, 2004.
Once again, the North American versions feature English voice acting from the North American Funimation dub. The European PlayStation 2 version also features it, while the later European GameCube version switched back to the original Japanese voice acting because of negative feedback from most European Dragon Ball fans which were used to the Japanese dub since the 16-bit era.
Gameplay
[
edit
]
The game's features include a tournament stage, versus mode, and an item shop. The story mode in the game is known as Dragon World, and plays like a board game as the player assembles a team of Z-fighters to challenge the various enemies in the series starting from the Saiyan Saga up to the final Kid Buu Saga. The game has a total of 31 playable characters including fusions of different fighters, and Majin Buu's various forms. The Japanese version of the game added several new costumes, as well as a new stage in the game's story mode. Some of the added costumes were added to the North American release of the GameCube version.
Table of Contents