Jump to navigation
Jump to search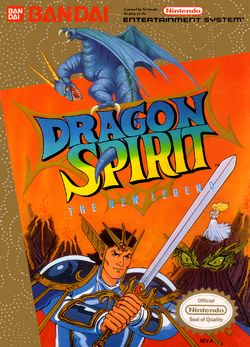 This guide is for the NES game. For the original arcade game on which this is based, see Dragon Spirit.
Dragon Spirit: The New Legend (ドラゴンスピリット 新たなる伝説, Dragon Spirit: The New Legend?) is a pseudo sequel to the arcade game Dragon Spirit, which was developed by Now Productions for the Famicom and NES. It was first published in Japan by Namco in 1989, and then a year later in North America by Bandai. Taking place several years after the events of the original, it adds many of the levels from the arcade version alongside new stages, enemies, boss fights and cinematic cutscenes, alongside a brand-new storyline.
The New Legend plays identically to the original Dragon Spirit. The player controls a dragon as it travels across a vertical-scrolling screen, shooting down enemies in the air and on the ground. As was typical of shoot-em-ups of the era, the player can locate power-ups to make themselves more powerful.
The story opens with a flashback or dream sequence where a man transforms into a dragon. If the player dies on the prologue/first level against the boss the games story and level configuration will change and the main character will instead transform into a Golden Dragon with double the health and increased damage. This mode is much shorter and generally easier than the Normal/Blue dragon mode and has a funnier ending to accompany the decreased difficulty.
After the short prologue level the game's title screen appears again displaying the Blue or Golden Dragon mode depending on the player's performance during the prologue. The game continues from there with the main character transforming into a dragon and setting out to rescue a young woman and several magical girls, fairies and female elemental deities, all of which grant him a small power-up to help him with his journey.
Revealing the maidens
[
edit
]
At the end of the first six levels, you will either see the face or the silhouette of a maiden. If you only see the silhouette, she will give you story information. If you see the face, she will impart some bonus, or restore your health. Whether you see the face or the silhouette depends on whether you meet certain conditions during the level.
| Area | Condition | Effect |
| --- | --- | --- |
| 1 | Always appears | Gives you a message. |
| 2 | Have less than 3 levels of firepower | Health restoration |
| 3 | Random (about a 50% chance) | Extra life |
| 4 | Have fewer than 3 necks | Health restoration |
| 5 | Random (about a 50% chance) | Receive information |
| 6 | Have fewer than 3 necks | Health restoration |
Table of Contents
Dragon Spirit: The New Legend/Table of Contents